Archive for the 'Dies' Category
Friday, April 28th, 2017
Tuesday, April 18th, 2017
Happy Tuesday! 
I hope you had a great Easter and hopefully enjoyed some spring activities… like decorating eggs and eating chocolate!  After my egg decorating last week, I was left with some beautiful tie dyed coffee filters, so I glued one of them to a white card front and today I have a fun & simple card to share with you!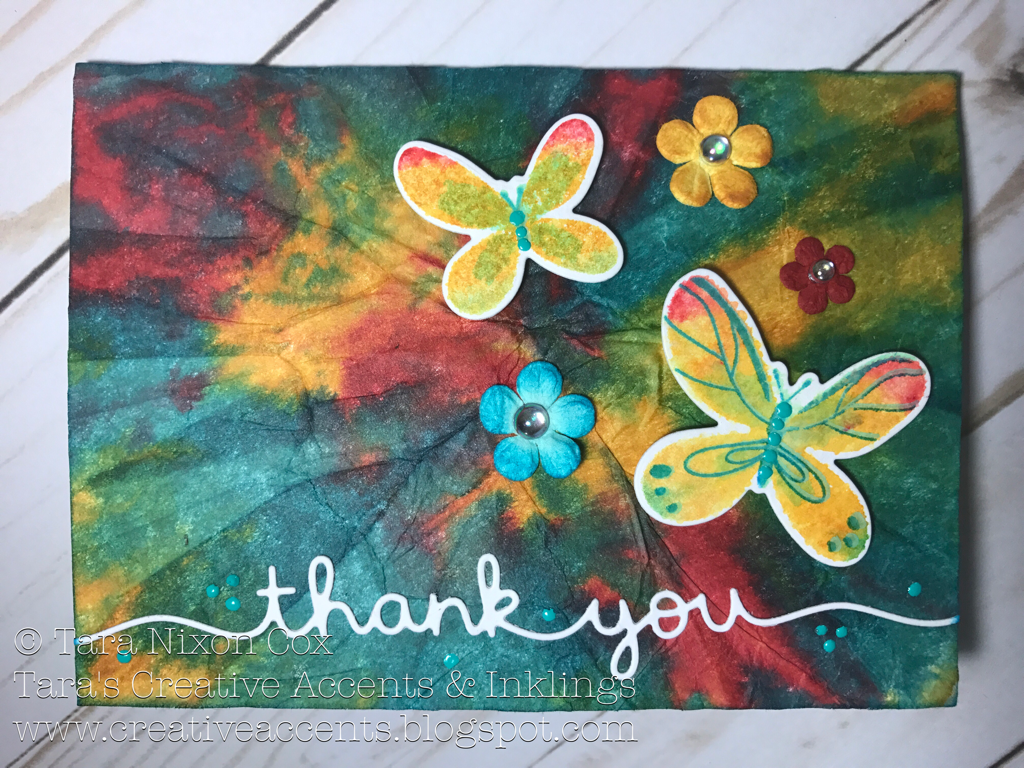 I didn't want to do much to take away from the fun  background, so I paired a die cut sentiment and some stamped & die cut butterflies, added a few tiny flowers and little enamel accent details and called it done!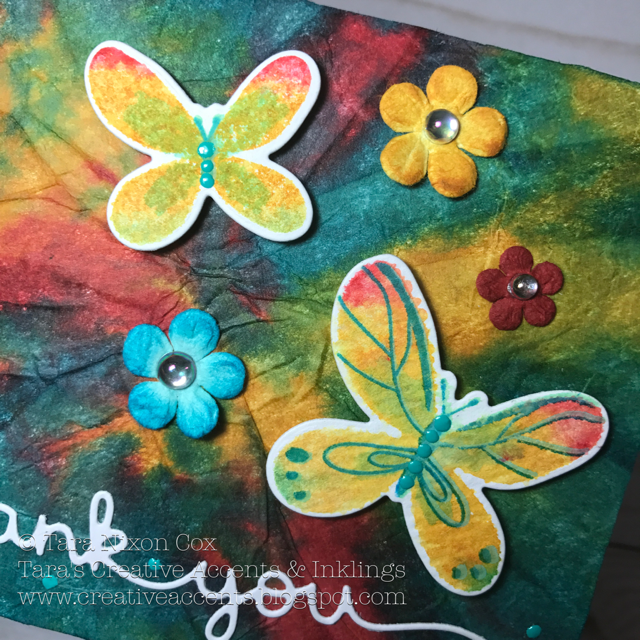 I selected the less realistic butterflies from the stamp set, as the curves suited the font from my sentiment better.  The bottom (solid) layer was misted with water before stamping to blend the multiple colors of ink I had used.  enamel accents on the body of the butterflies adds a touch of shine & dimension.
Hope you like it!  Inky hugs,
Tara
products used:
Watercolor cardstock
white cardstock
Distress Ink in Wild Honey, Candied Apple, Cracked Pistachio & Mermaid Lagoon
Lawn Fawn Thank You border die
My Favorite Things Beautiful butterflies stamps & dies
Big Shot Cutting tool & magnetic platform
Garden Patina Enamel Accents
Tie dyed background paper from coffee filters I used on my Easter Eggs 
mini Prima flowers and bling from my stash
Tuesday, March 28th, 2017
Happy Tuesday!
I've got a simple card to share with you today- it's striking with some bright colors and die cut words paired with pretty patterned paper.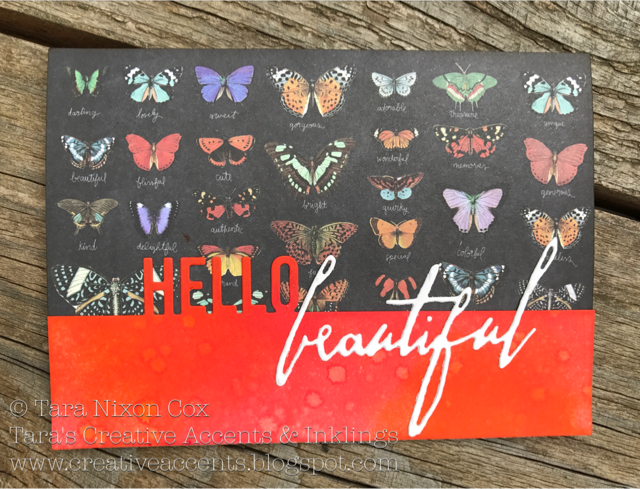 I wanted to try pairing the "hello" with another dies from my collection and this script seemed perfect, especially when I found this fun butterfly print in one of my Prima 6×6 paper pads! I applied a heavy layer of Distress Ink with ink blending tools to the cardstock, then misted and splattered water on it for texture.  I love these shades of orange/coral together ❤
Because of all the details in the patterned paper, I kept everything else very simple. It would be a great layout to feature a stamped pattern as well. So many possibilities 🙂
Another look:

Have a beautiful week!
Inky hugs,
Tara
p.s.  Have you seen the spring clearance sale going on???
Supplies used:
Distress Ink in Ripe Persimmon & Carved Pumpkin
Mister bottle
Ink Blending tool
hello edge die (my favorite things)
beautiful die (handwritten love by Sizzix/ Tim Holtz)
patterned paper (Prima)