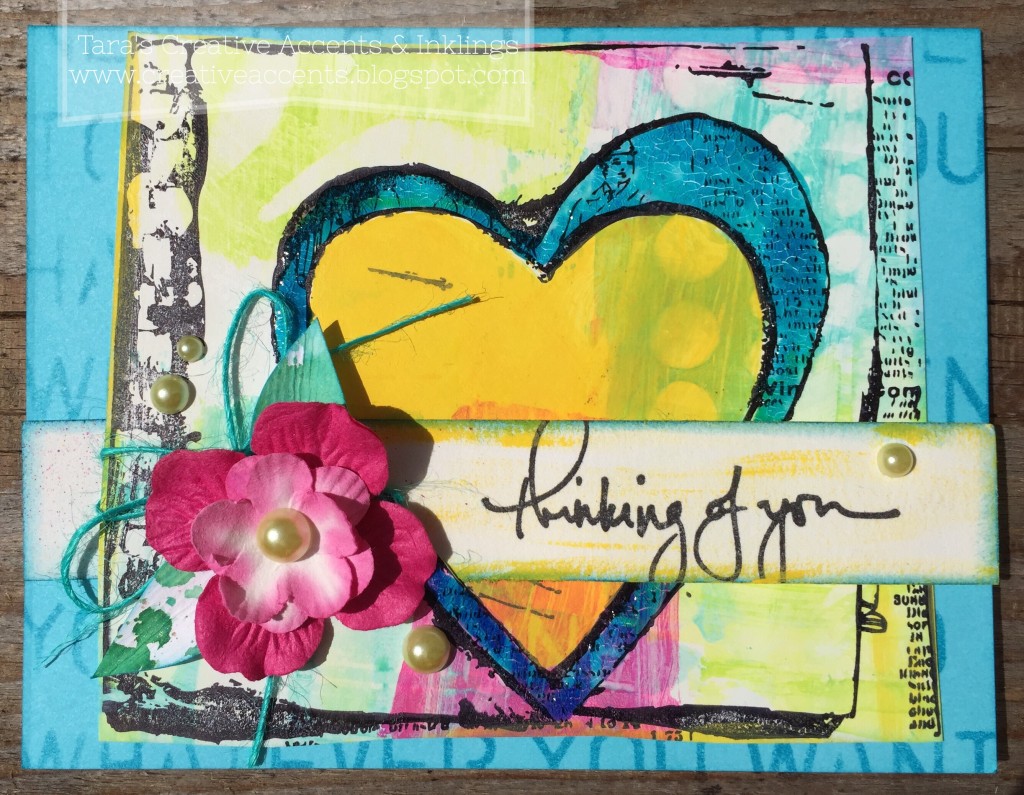 Happy Tuesday! Today I'm sharing with you a card I made featuring fabulous products from Ranger designed by the amazing Dina Wakley!
I created a background on a gesso-prepared piece of cardstock with paint & stencils by Dina and baby wipes. I'm still learning WordPress and haven't fully figured out how to add photos where I want them except in a gallery form- but in this gallery you will see my background 🙂 Be sure to click through to see the full card and all my close ups! I used Dina's Handwritten Heart Collage Stamp set as the main image for my card, which I stamped in Black Archival over the prepared background. Once that dried, I painted inside the heart with yellow paint.
The fun texture on this card is made with Distress Crackle Paint in Clear Rock Candy (I believe Ranger discontinued all the colors, but CLEAR is still available, and in a larger tub.) This stuff ROCKS and you will find lots of uses for it! You'll see a photo in the gallery that shows how easy it is to tint and add a punch of color- I simply wiped some Mermaid Lagoon Distress Ink on my craft sheet and poured a bit of crackle on it, mixed them together and painted it with a small paintbrush. Be sure to clean up your brush right away when you are done, then walk away and let it dry and work it's magic! I let this sit for about 20 minutes before continuing with my card… it might have been done sooner than that, but I wasn't around to check 🙂

The rest of the card is pretty simple assembly… my sentiment was stamped on a strip of paper the same width as my card, which I added a bit of yellow paint and Mermaid Lagoon ink to. I cut a slit in the edge of the heart to slide it through and raised the front portion with foam squares. A bit of jute and flowers & a few pearls (all from my stash by Prima) finish off this simple card! Hope you like it!
Tags: Cards, Dina Wakley, Paint, ranger