Happy Tuesday!
If you follow us on facebook or have been browsing the online store lately, you may have noticed Scrap n' Stamp is celebrating Christmas in July with a variety of Christmas goodies on sale all month long!  I decided to join in the fun and pull out a few Christmas supplies (bought in after Christmas sales!) that had not yet seen any love… I'm featuring a stamp by Impression Obsession, dies by Tim Holtz/ Sizzix and watercolor painting  with Colorburst.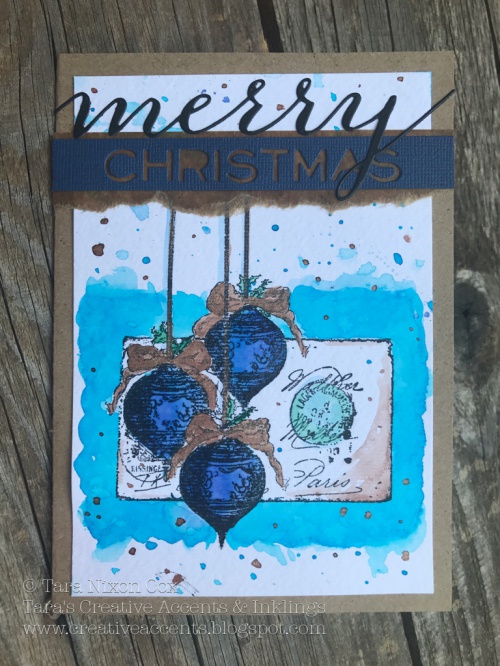 I stamped the ornament collage image in black Archival ink on watercolor cardstock, then misted water onto my craft sheet and squeezed a small amount of ColorBurst into the puddle. I mixed and painted with a brush, gradually adding more water and color to get the desired look. I've used two different shades of blue, plus a touch of green and a mix of sepia (brown) and cooper (metallic).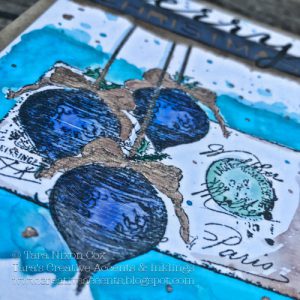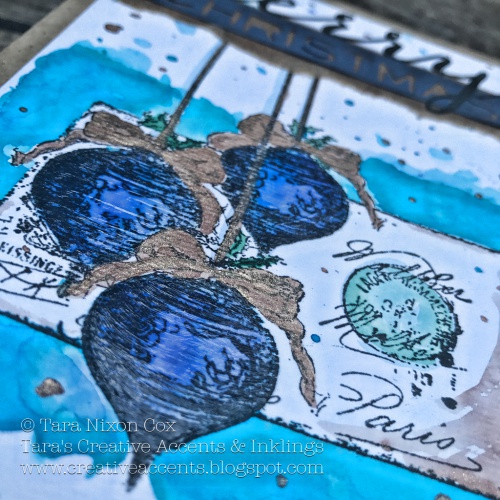 I wanted to add something extra to the ornaments, so decided to try painting on some transparent texture paste.  It's a unique look, with very visible brush strokes.  Kinda cool… but I think I'll stick to good ole Glossy Accents next time 🙂  I do love that copper shimmer in the bows, though!  And it looks fabulous in my splatter spots as well!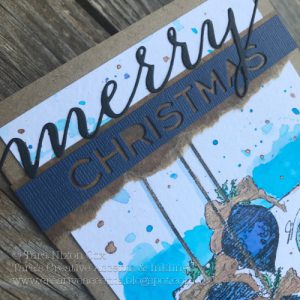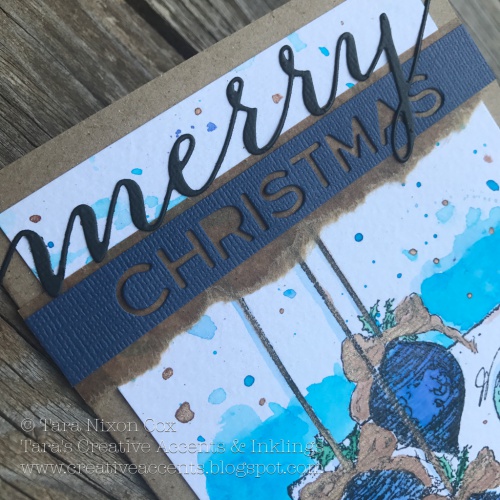 The title is a combo of a positive cut of the 'merry' die by Memory Box and a negative cut out of 'Christmas' by Tim Holtz/Sizzix.  I love these together, and added some torn kraft glassine paper behind them to add some extra dimension.
My card is on a 5×7 kraft card base, which framed this larger stamped image & the die cut words quite nicely.  I don't normally do larger cards like this, but sometimes it's best for the design 🙂  I hope you like it and I hope you are checking out all the specials on Christmas goodies in the online store!
Next Tuesday we are hoping to be back with another BLOG HOP for you to check out with more fun Christmas inspiration!  Hope to see you then!
Inky hugs,
Tara
Materials Used:
Holiday Words 2 dies by Tim Holtz/Sizzix
Merry script die by Memory Box
Ornament Collage stamp by Impression Obsession
Watercolor Cardstock
Colorburst (shades of blue & brown/copper from brights & earth tones sets)
Kraft Glassine by Tim Holtz
Assorted card stock