Happy Tuesday!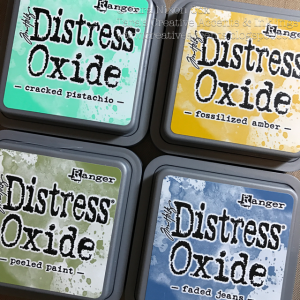 This week I want to share with you my excitement about the new Distress Oxide inks by Ranger & Tim Holtz… it's so fun when something completely new & different comes out on the market because it can really add new life to all the supplies you own already!  I brought home six of the new inks and most of my inky play you see here was with just two of them, peeled paint & faded jeans.  So hopefully this little sampling shows you that you can still have some fun with new supplies even if your budget is small (or you can go big and buy them all… don't let me stop you!  Lol)
If you've been following me for a while, you probably have noticed that I LOVE working with/on kraft cardstock.  I was most excited to get my hands on Distress Oxides because of their unique properties as a hybrid ink which allow me to not just stamp but do background and blending techniques that will show up on kraft & black!  I love this!  Here is some simple  ink blending on kraft- I inked directly on the tag with a blending tool as well as rubbed the ink onto my kraft sheet, spritzed with water and pressed & dabbed the tag into the inky puddles.  Look at the gorgeous variety of shades I got from just two inks!  Love it!  And check out the funky oxidation look from mixing these inks with water.  Yum!
Here's another tag that I stenciled onto, layering and misting my inks:
Again, this was on a kraft tag base!  I also did a bit of ink blending and stenciled on a black tag: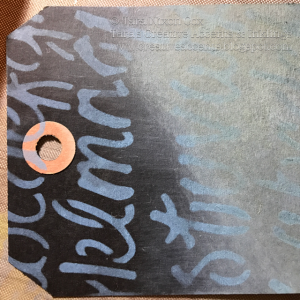 The black tag didn't accept water as well as the kraft or a regular Manila tag, but the inks look amazing stenciled on it!
Heres another look at the two kraft tags… and I'll show you the completed black tag in a week or two!
other supplies:
tags, kraft & black
Dylusions modern script stencil
Tim Holtz scribbles stencil
Non stick craft sheet (my favorite work surface- especially with Distress Ink products!)
Tim Holtz handwritten thoughts stamp
inky hugs,
Tara