Happy Tuesday!  Today I've got a couple tags I created, doing a bit of experimenting to see which end result I liked best 🙂 Often I share just the end result, but the process is really the fun part, so I thought I'd show both and tell you a bit about what I did to get these results.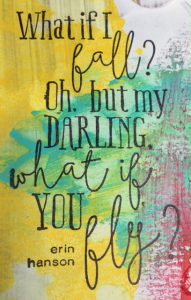 I started with two kraft tags, which I had primed with white gesso.  I wanted to use the baby wipe technique for my background, so decided to tape them together temporarily (washi tape on the back side) to give myself a larger work surface. This is not a new technique, but I hadn't done it for a while!  Here's a brief video from a few years back of Dina Wakley showing this technique, if you're not familiar with it.  I applied paint with my fingers in smaller spots and overlapped colors as I moved across the tags.  I kept it simple working with 3 colors and stencils, and for some reason the bees really popped out for me.  Here's the finished background.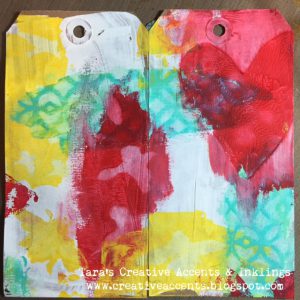 I got to visit the store in Granville Island last week and this sentiment stamp from Impression Obsession jumped out at me, so it inspired me to finish the tags with a focus on bees.  I first stamped the sentiment on each tag so that I wouldn't smear texture paste by stamping later.  I wanted to draw attention to the yellow bee that was on the bottom of this tag, so lined up the stencil over it and applied transluscent texture paste, then some glitter flakes over it.  I repeated this closer to the sentiment on the tag.  Here's how it came out.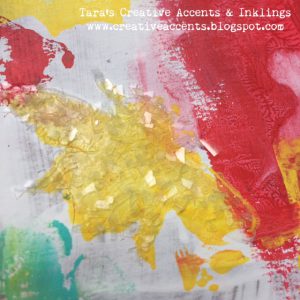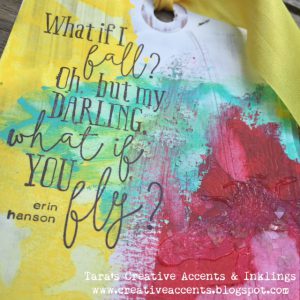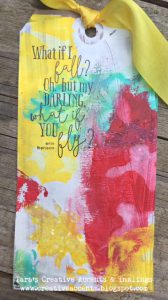 For the second tag my eye was drawn to the large red heart, so I decided to add a large yellow bee.  In mixed paste before, I've found they tend to lighten to pastel shades, I wanted bright so brought out the big guns and added both paint and Color Burst to a little bit of opaque white paste.  It turned out amazing!  As before, I applied paste through the stencil and added a bit of glitter after (a smaller chunky glitter this time).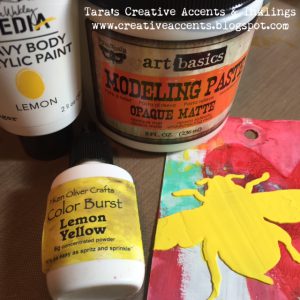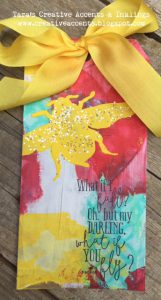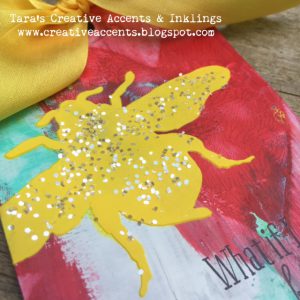 *** I'm having some technical difficulties with some of my images today, so please check back later and hopefully I'll have the sizing fixed!***
Thanks for stopping by- I hope you've been inspired to take the leap and experiment with your supplies!  Who knows, maybe you'll fly…
Inky hugs,
Tara
Tags: Dina Wakley, Paint, stamps, tag, Tuesday with Tara