Happy Tuesday! Today I've got a blue "Christmas in July" card to share with ya'll! I don't know about you, but I always plan to start my Christmas cards in the summer (when all those Christmas in July sales start happening 😉 and when people start sharing how many weeks until Christmas countdowns on facebook…), but never really get around to making actual progress! Maybe this will be my year? LOL
Anyways, I have learned over all my years of card making that if I actually want to send out cards to people, I need to keep them simple! My favorite way to do this is to stick with a simple layout but find fun ways to add texture and bits of bling (it's for the holidays, after all!) so today's card showcases a fun way to keep it simple, but definitely not boring!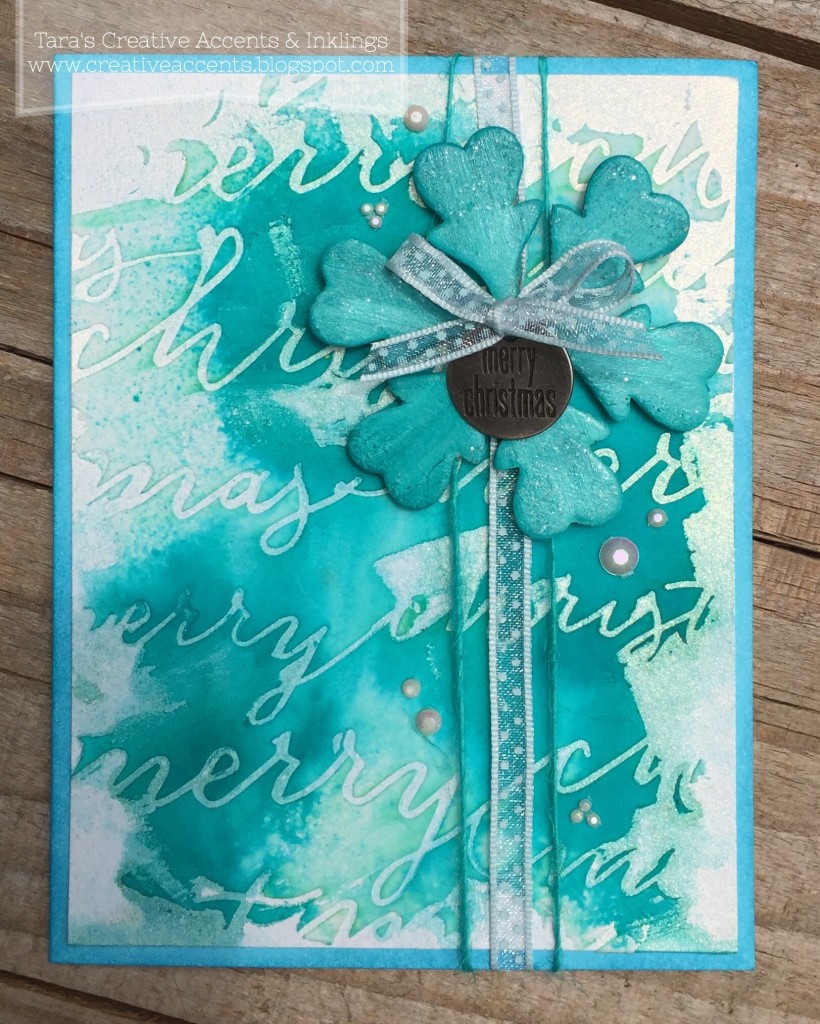 I created some fabulous texture for my card by applying texture paste through a background stencil (isn't this one by Memory Box gorgeous?!) onto a shimmery cardstock.  I could have used plain white cardstock, but was really curious how the Distress Stains Spray I planned on using would react to both the cardstock and the texture paste… I think it came out pretty neat!  I've used Peacock Feathers, which is such a happy shade that really works in ALL seasons!  I did deliberately rough edges with my texture paste, to keep the background really interesting.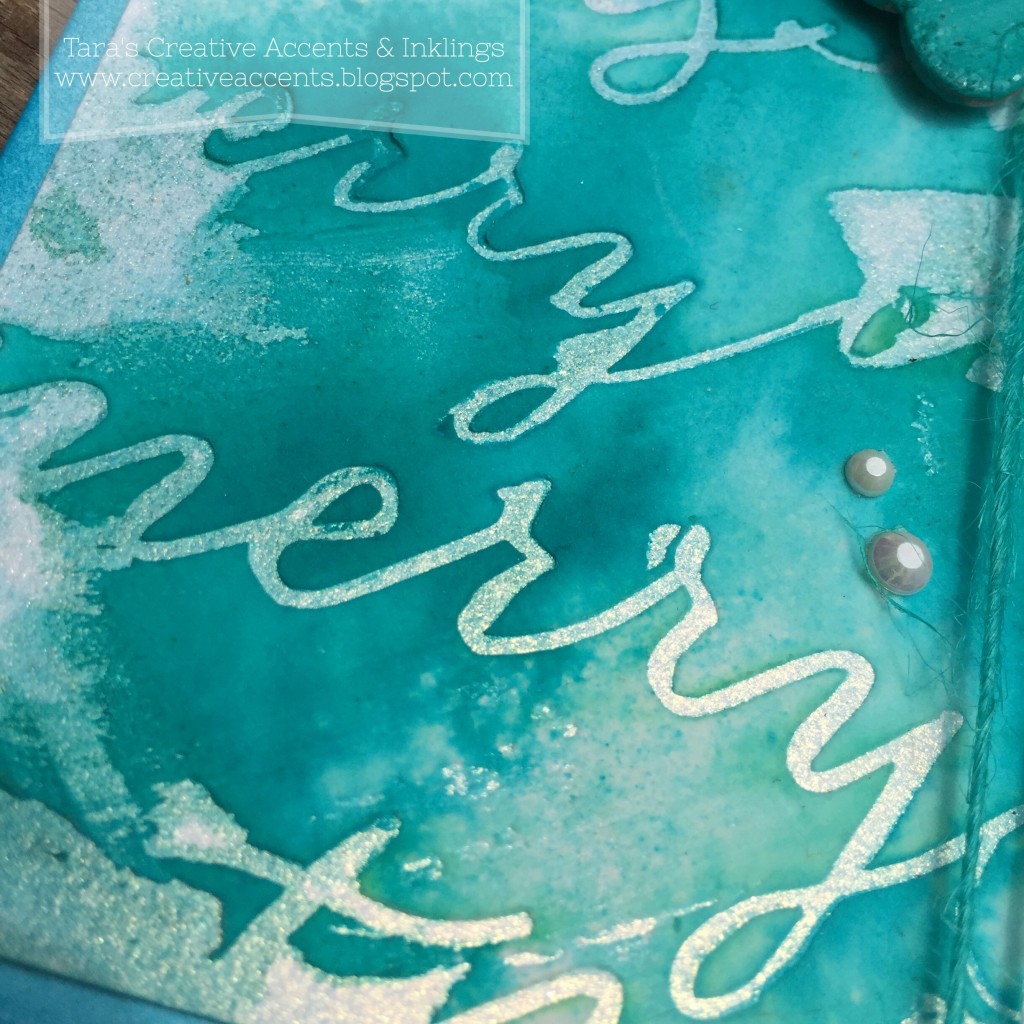 I'm in the middle of a crisis with my Vagabond machine, so I opted to embellish the card with a chipboard snowflake from my stash instead of a die cut chipboard shape as I was intending to do.  This was painted with two shades of teal/turquoise paint and then topped with some Rock Candy Distress Stickles for some shimmer.
Once everything was dry, I tied on some ribbon and twine and attached it all to the card, tying on a pewter Christmas charm to add some pop.  A bit of bling scattered across the card finishes everything off!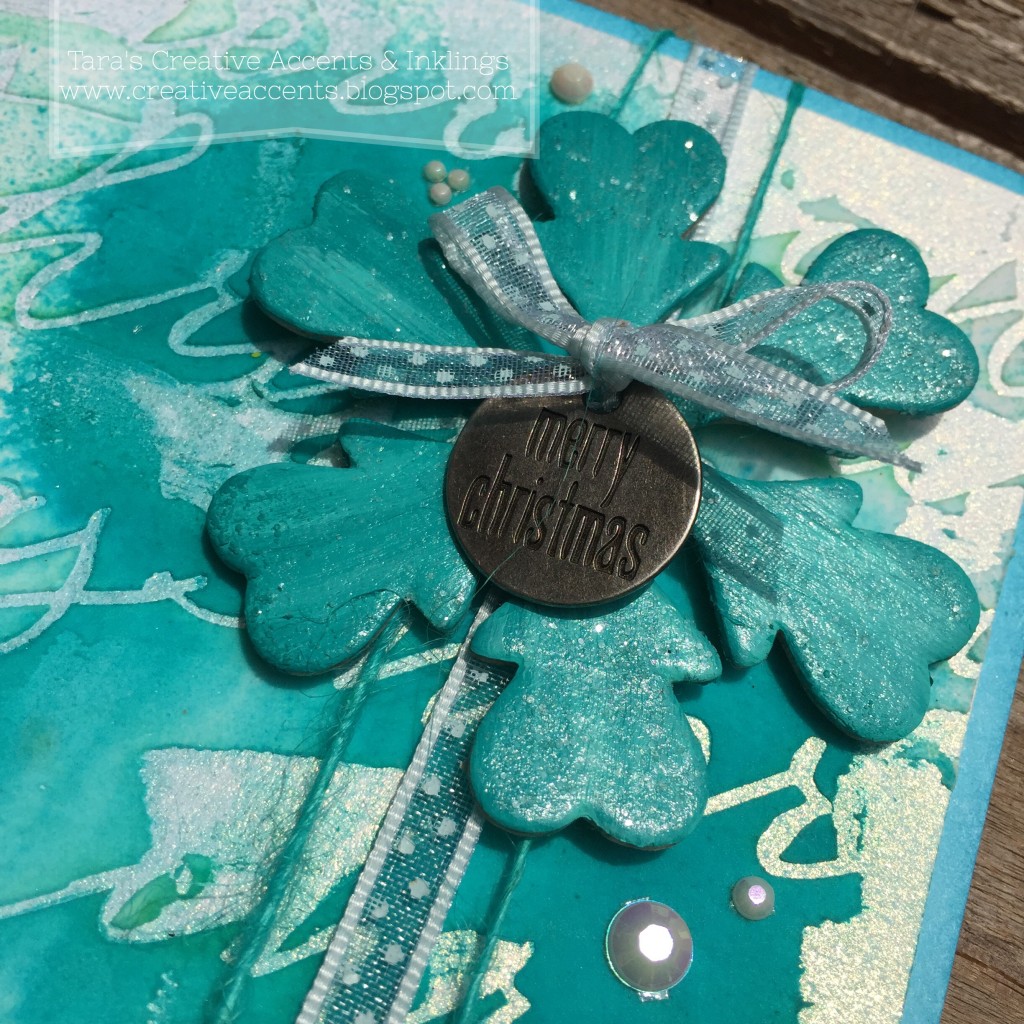 supplies used:
a2 card in blue
pearl white card stock (4×5.25″)
merry christmas stencil by Memory Box
ranger texture paste
distress spray stain in peacock feathers
snowflake chipboard shape by Maya Road (or cut your own!)
merry christmas "tidings tokens" by Tim Holtz idea-ology
turquoise paint by Dina Wakley
classic teal paint by Claidine Hellmuth Studio
clear rock Candy Distress Stickles
ribbon & twine
bling (Hero Arts?)
Tags: Christmas cards, Memory Box, ranger, tim holtz