Hi Everyone! It's Susan and I'm sharing a post for the Random Acts of Cardness prompt of Texture. I have a LOT of pics so I made them smaller to fit more in – hope they're not too small to see.
I was playing with the Simon Hurley Stampin Foam. This was my first time and I am HOOKED!! If you haven't tried these I highly recommend them. All you do is heat the foam for a couple of minutes with your heat tool then press in to whatever you have that is textured. Next you ink up the foam like you would a stamp then stamp with it. I wiped it clean with a wet wipe then heated it up again with my heat tool to remove the impression and moved on to the next thing with texture.
Click HERE to watch a quick video on how it works.
Here's a pic of the foam with the impression of the wall and inked up then me stamping it.
Below are all the panels I made using the foam. The top three are made from the impression I got from the wall in my craft room
The middle row: left is from my sweater, middle is a wicker basket and right is my Tombow markers
The bottom row is all the edge of the baskets that I store my stamps in.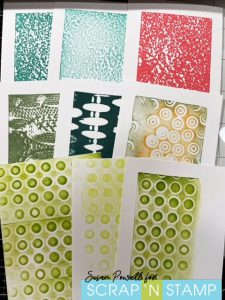 And these are the cards I made from the panels. I do have a couple still to play with but I did make a lot.
All the products I used are listed below.
Other ways I added texture was to to use stencils, tear edges of card stock and also distress the edges of some of the card stock.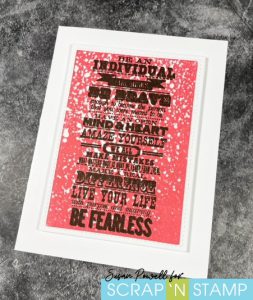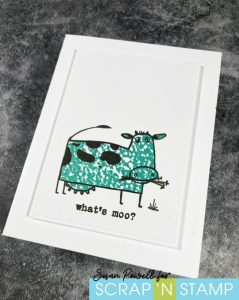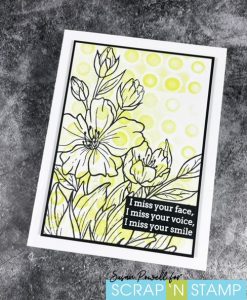 Thanks so much for spending some of your day with me.
If you have any questions about the cards please don't hesitate to ask.
You can leave a message below, DM on Facebook at Susan Powell or email me at greetingsfromsusan@live.com and I will get back to you asap.
Take care.
Susan
Shopping list:
I use affiliate links when I can which means I earn a small commission when you purchase through one of my links – this is at no cost to you. Thank you!!
&


;