Hey Friends!  It Chala and I just wanted to start off by saying I was so bummed that I was not able to participate in the Snarky New Year Blog Hop…so, I am sharing one now!
 Anyone who knows me knows that I LOVE the snark and sarcasm!  Unfortunately, my year started with the passing of several family members (3 in one week), one of which was my incredibly sweet (yet chaos envoking) Father-in Law who lived with us.   He was diagnosed with cancer in September and it has been a tough several months for our family as he was determined to stay at home as long as he could to celebrate Christmas with his grandkids.  Thankfully, he was able to fulfill this goal.  However, we sadly lost him the morning of January 1, 2020.  Now, I should note that we are a bit of an odd family.  Our days are filled with sarcasm and humour and we are often hard for "outsiders" to understand.  But,  it is with this sarcasm and much humour that we dealt with his diagnosis and this tremendous loss and ongoing grief.   So, please take today's card with the humour it was intended to invoke to lighten the mood and I hope it makes you laugh as much as it made my family laugh.
Since so many of my friends and family have also been fighting off the flu, sniffles, colds and coughs, I thought it would be fun to make a "Get Well" card.
I am using the "Get Well Soon" sentiment from the Snarky Mix & Match stamp set by Hero Arts. This has got to be one of my favourite snarky sentiment sets on the market!  I stamped the sentiment several times on an A2 size card base in with Distress Inks in the colours Wild Honey, Candied Apple, Broken China and Evergreen Bough.  Then die cut with a rectangle die.  The one I used is from Elizabeth craft designs.  However, a similar one is MFT A2 stitched rectangle stax  set 2 dies.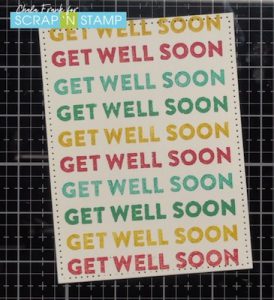 I picked through my rather large stash of patterned paper and picked out a rainbow stripe pattern.  I admit, I am not exactly sure where it came from…..but, the Taylored Expressions 6×6 – Hello Sunshine paper pack would coordinate beautifully with the Distress Ink colours that I chose. I trimmed the patterned paper down and adhered it to an A2 size side folding card base that I made from Lawn Fawn 8.5″ x 11″ – 80lb White Cardstock.
I loved the rainbow colours of the card….but, felt it needed a little something on the front. I saw the Tissue box from the Lawn Fawn – On the Mend stamp set and thought it would look really cute.  I like being able to mix and match several stamp sets/companies to stretch my use of them.  I stamped the tissue box with Memento Black Tuxedo Ink and coloured it with Copic Markers in the colours C2 – Cool Gray, BG13 – Mint Green and BG 15 – Aqua.  I fussy cut the image out and popped it up with a square foam adhesive.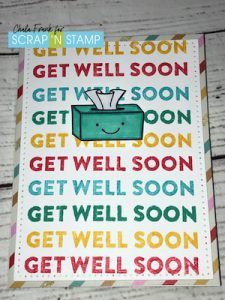 For the inside sentiment, I stamped the "I'm grateful you're not dead" with my favourite sentiment ink Versafine Claire Nocturne Ink. (I thought this was really funny….thankfully, so did my family!)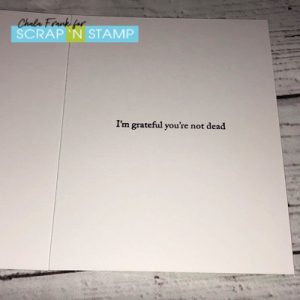 I know this card is very simple and I'm sorry I don't have a coordinating video…but, I am still trying to get back into the creative groove!
Thank you for stopping by and letting me share a little personal side of my life!
Hoping you all enjoy your week!
In Memory of Robert Harrington Frank
"Don't do it, it's a trick!"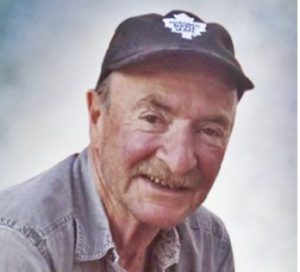 ~Chala, xoxoxo
Tags: Chala, Crafting Through the Chaos of Life, distress inks, Get Well, p.s. i love you, p.s. i love you by Chala, Sarcasm, Snarky