I love the humour in the stamps from Art Impressions, and this Get Well set is a great example! The funny images and punny sayings would perk up anyone who wasn't feeling well. So this makes a great get well soon card, for anyone. Get well also happens to be the word prompt for today's Scrap 'N Stamp daily challenge!
I SEE YOU (OR I.C.U.)
No one is comfortable in these silly 'robes' they give you at the hospital or doctor's office! It's hard to remain dignified when your back end is exposed to the world!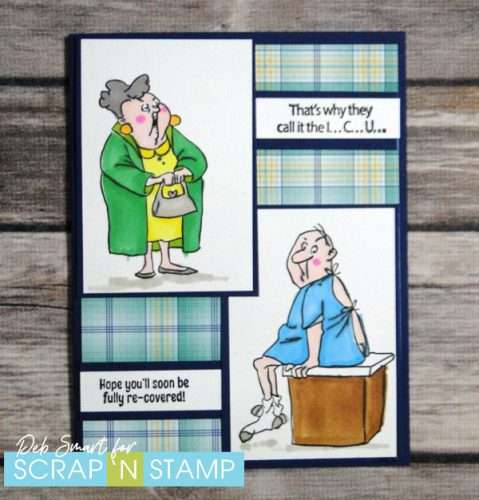 Hopefully the recipient of this card won't have any stitches they might disrupt, when laughing at this card! The play on words just tickle my funny bone.
CARD DETAILS
I wanted to use both sentiments, so I decided to use these two images. Having accompanied my husband on many doctor/specialist visits, I feel like I've lived this scene.  The images and sentiments are stamped in Nocturne ink onto white cardstock. Then choose your favourite colouring tools; I chose some Copic and Spectrum Noir markers. After colouring, layer the images and sentiments onto dark blue panels. Cover a dark blue card base with some patterned paper, and then layer on the images and sentiments.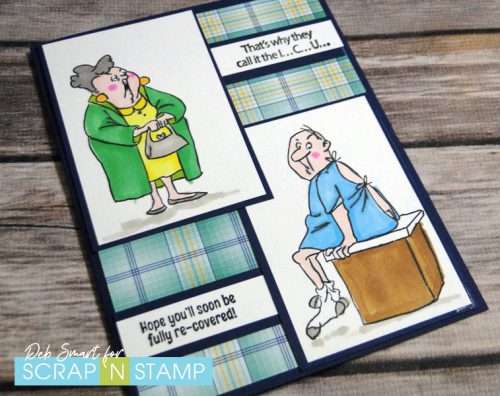 JOIN THE CHALLENGE
You can find the Scrap 'N Stamp challenge page HERE, on Facebook. It's free (and fun) to join! Each month you'll see a list of word prompts; one for each day of the month. Simply create your project, and then share it in the group, using the hashtag #snschallenge. At the end of the month, one lucky participant is randomly chosen to WIN a $50 GIFT CERTIFICATE to Scrap 'N Stamp!
On another note, this is my final post as a member of the Scrap 'N Stamp Design Team.  I have had a wonderful 3 years as a member of the Team; it's such a great group of people, and I hope to keep in touch with them. Many thanks to Raya, the owner, for her support and to the rest of the team for their friendship!  I will still be creating, but with more focus on my resin art, and watercolour painting.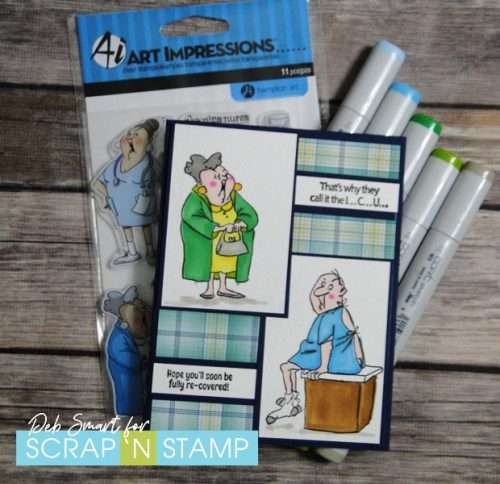 SHOPPING LINKS
While I won't be a member of the Design Team, I will still be an affiliate of the store! The Art Impressions Get Well stamp set I used is a sneak peek, but will be in the store soon. You can continue to use my Discount Code 10DEB until the end of February, for 10% Off your total purchase.  Thanks so much – I hope you'll keep coming back for more art!