Wow, it's the last week of October already! That means it's time to finish off any Halloween prep you might need to do, you know, like buying your favourite Halloween treats. 😉  And if you like to send Halloween cards, it's time to get them in the mail! I'm here with possibly the least spooky card you can imagine, for today's Random Acts of Cardness prompt, BOO.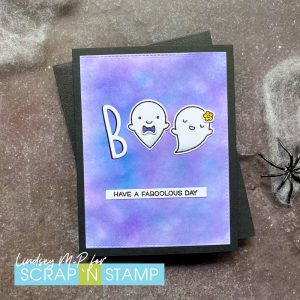 These little ghosties from Lawn Fawn's Booyah stamps and dies are so sweet! I stamped a few, mixing up the shapes and faces, then picked two that seemed to get along well together for the "O"s in my BOO. I added a bow tie to one, and a sparkly flower to the other. And let me tell you about my background! I was using distress oxides for a different card background, and had been brushing the excess off on the back of a Scrap 'n Stamp postcard from an order. As I was cleaning up, I realized I had the start of a spooky sky! I used mermaid lagoon, faded jeans and wilted violet for the background. My large "B" is from Concord & 9th's Tall Type Alphabet. The secondary banner sentiment is from another fun Lawn Fawn set, Tiny Halloween. I tried different ways of mounting my panel onto the card base – directly onto a white card base, a black mat on a white base, but decided I liked this one, directly onto a black card base, best.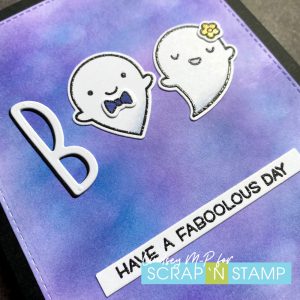 If I knew anyone getting married on Halloween, wouldn't this be a fun wedding card? 😀  Thanks for checking in today – hope your week's off to a faBOOlous start!