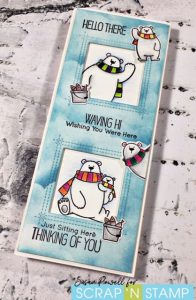 Slim line cards are all the rage lately so I thought I'd share one with you today.  Hi Everyone! This is Susan and I wanted to share with you how I made this slime line card.
Companies are coming out with all kinds of products for making slim line cards. There are dies, stencils and papers all geared to make it easier but what do you do if you don't have those products?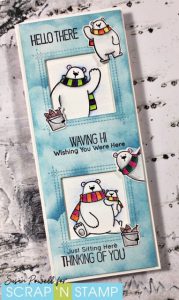 I looked through my stash and decided that the Square Peek-a-Boo Window Die from My Favorite Things would be perfect to make some openings in the panel. Next I chose the Polar Bear Pals Stamps & Dies also from My Favorite Things to use mainly because I wanted to use the two stamps that look like they're peeking in.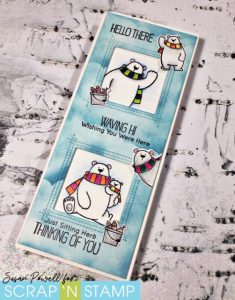 I used an 8 1/2 x 11″ piece of card stock for the base and the panel. Cut the card stock at 7″ along the 11″ side and score it at 3 1/2″ – this gives you the card base. With the leftover piece cut the 3 1/2″ side to 3 1 /4″ and cut the 8 1/2″ side to 8 1/4″ – this will be the panel.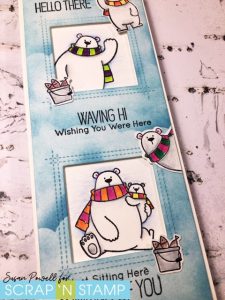 I cut two squares in the panel using the Peek-a-B00 Die then using Tumbled Glass and Broken China Distress inks and a blending tool I covered the panel not worrying about having perfect coverage. Next I used the Cloud Stencil and the same inks and blending tool to add some clouds over the whole panel.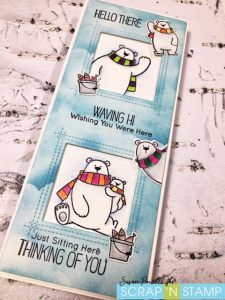 I stamped the two bears you see in the window on the card base. Position the panel over the base and with a pencil mark the edges of the inside of the squares so you know where to stamp the image. I stamped a few extra images and colored them all in with Prismacolor pencils. I used the coordinating dies to cut out the extra images. I stamped the sentiments and then positioned those extra images around the card. I added the panel to the base using craft foam and called it done!
If you've never made a slim line card before because you thought you didn't have the right products I want to challenge you to look through your stash with a fresh eye and choose some products that you think would work and give it a try. And please share it with us over on the Scrap'n Stamp Facebook Page – I can't wait to see what you make.
Happy Stampin'
and thanks so much for visiting!
Stay safe everyone!!
Susan
Shopping list:
Below are links to all the goodies I used, just click on the icon to be taken to where you can purchase the product.
If you use my affiliate links when shopping there is no additional cost to you, I want to say thank you and that I appreciate it and you very much.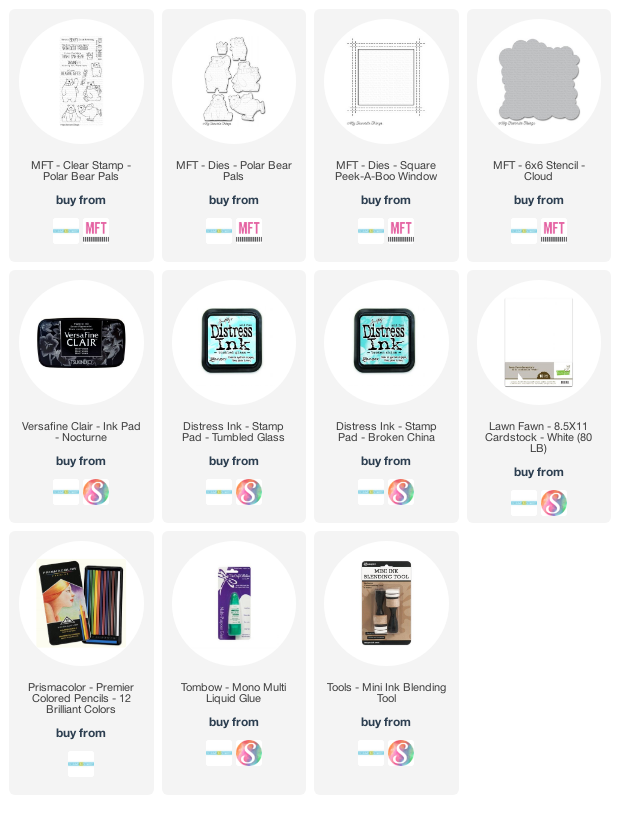 Tags: Slim Line Cards