Hi All… Nancy here and I had fun putting this card together for you today….  I am following along with the Random Acts of Cardness prompt for today.  That prompt word is LAYERS.  And I went a little nuts with the layers.  Including the mats under each layer, there are 8 layers plus the card front!  Using a 6X6 patterned paper pack from My Favorite Things made it super easy to choose the papers for my layers.
At the end of the post I have a little surprise for you too!  I did a VIDEO to demonstrate how to use the We R Memory Keepers Layers Guides that I LOVE!  Most people don't understand the concept of these tools and I LOVE them and use them on almost every card I made.  I hope the video explains things for you.
But first, the card I created…  it's so totally not my clean and simple style but I sure do love it!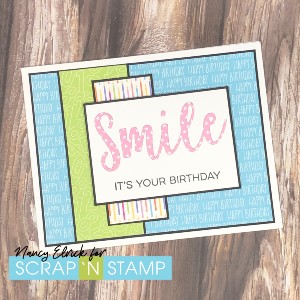 Items Used:
And now, on to the video… please be kind as it's my first… and I have no idea how to edit a video (nor the time I think it would take to not only learn how but also to just do it) so this was all done in one take, mistakes and all LOL!  If you have any questions about the Layers Guides, let me know and I'll try to help!  These are truly the tool I reach for most on my craft desk!
Tags: card making, perfect layers