Welcome back to the Scrap 'n Stamp blog! Today's Random Acts of Cardness prompt is MANDALA. I don't use mandalas a lot on my cards, but I wanted to play with a layering die set from Birch Press Designs, Kaleidoscope. If you're unfamiliar with this company, they make beautiful, intricate layering dies that can be used in a variety of different ways. For my design, I was inspired by the colours of our current Random Acts of Cardness board. Here's my card: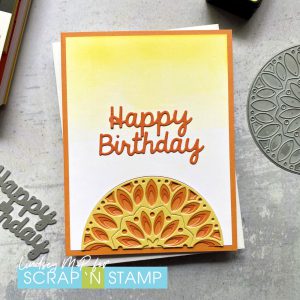 I picked three colours of cardstock from Memory Box's Sunny Orange 6×6 cardstock pack. This is heavyweight paper, but the dies cut it beautifully. I adhered my layers together and then cut the resulting mandala in half with my trimmer. For my white panel, I wanted a subtle ombré effect from the top, so brayered a little squeezed lemonade distress ink on a gel plate and pressed my cardstock onto it. (I could have also blended the ink, but it's fun to play around sometimes.) I used the middle colour of cardstock for the card base and to die cut my sentiment.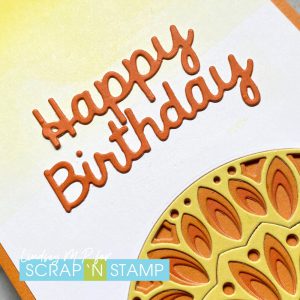 Do you have mandala stamps or dies in your collection? Perhaps you draw your own! We would love to see your mandala cards on the Scrap 'n Stamp challenge page – and entering puts you in the running for a $50 gift card! Happy Friday and thanks for stopping by.