Hi crafty friends and welcome back. Sandi MacIver here and I have a super fun post for you today. I was playing with the Gemini Foil Press Machine and I made two Picket Fence Studios Foiled Christmas Cards to share with you in today's Stamping Video.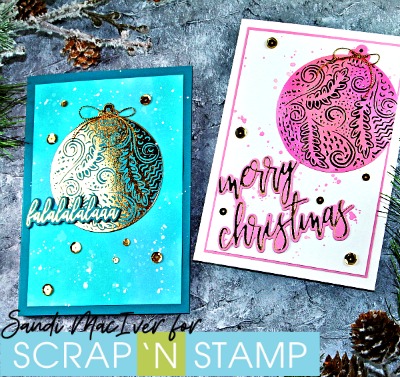 I used the Picket Fence Studios Two Part Foiling & Cutting Dies for both cards. The Falalalaaaa sentiment, the Merry Christmas sentiment and the Christmas Leaf Bulb. What I love about these sets is there are two dies. One to foil with, and a second outline die to die cut the image out allowing you the freedom to place it wherever you wish on your card.
With the Christmas Leaf Bulb I show you how to use the positive and the negative of the foil, to create two Christmas balls from one piece of foil.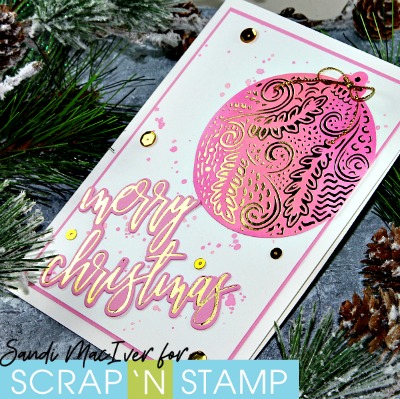 For the pink card, I use Distress Oxide inks in Picked Raspberry and Worn Lipstick to sponge onto the white card stock before I do the foiling. That's what creates the pretty two tone background effect.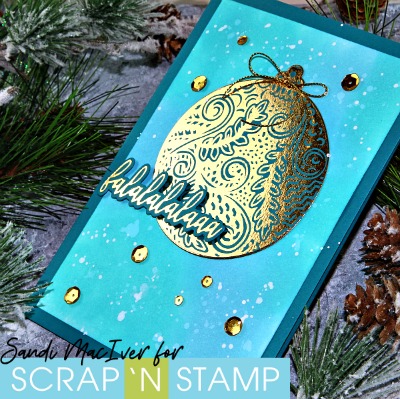 The Christmas Ball on the blue card is the one created with the negative foil piece left over from the first pass, that's why most of the ball is gold and just a tiny bit of the blue card stock shows through. Because of that, I chose to sponge the card front for this one to add a little depth of color to the background.
Here's the video for the Picket Fence Studios Foiled Christmas Cards walking you through the steps to sponge, foil and put the cards together.
Thanks so much for stopping in today and I hope you enjoyed the projects. I have listed the products I used below with links to the Scrap 'N Stamp Store for you.
Until next time, Happy Stamping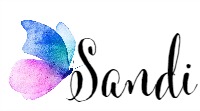 Tags: Christmas cards, Gemini Foil Press, Holiday Card, Hot Foil, Picket Fence Studios