Welcome to the Scrap 'N Stamp Paper Hugs Blog Hop!  I'm so excited to send paper hugs your way along with our design team… these projects are soon to be blooming with creativity to bring some cheer to your day!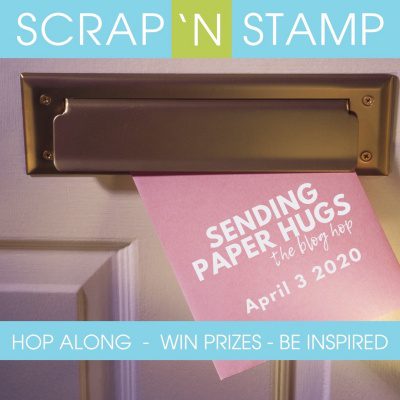 As usual, we encourage comments on our posts… and will be randomly selecting someone from those comments to win a $50 gc for the SNS online store!   Be sure to read through to the end of this post for links to the rest of the girls cards!  Any orders placed this weekend could get a FREE 'paper hug' sentiment stamp like the one I used on my card- just put 'send me a hug' in your order comments!  (freebies are while supplies last)
I'm gonna kick things off with this card featuring this gorgeous Colossal Coneflower stamp by Gina K Designs.  This stamp set is really gorgeous, with several leaves, blooms & sentiments to mix and match.  I kept it simple with just one flower on my card, pairing it with the Paper Hug stamp by Picket Fence Studios.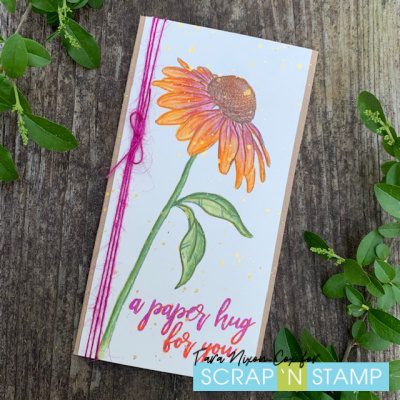 I stamped onto some watercolor paper in a pale grey Archival ink so I wouldn't have dark lines competing with the vibrant colors I wanted to use.  I took my inspiration from an image of echinacea in this gorgeous mix of fuchsia and orange.  I went in with my Aquarell Watercolour Pencils (if you don't have any, try starting with a set like this one by Nuvo) and just shaded away until I got a color blend I was happy with.  I love blending it all together with a water brush since it's so easy to work with.
I finished things off with a bit of shimmer… I splattered some shimmer of Perfect Pearls Sunflower Sparkle.  I used one of the bottles of Perfect Pearls Mist, which I don't believe they make any more, but I think you can get the same effect mixing some pearls with a bit of water and splattering with a brush.  It adds such a pretty bit of shimmer to this simple card!  I decided to trim down a 5×7 kraft card base to just 3.75″ wide and make a tall & slim card.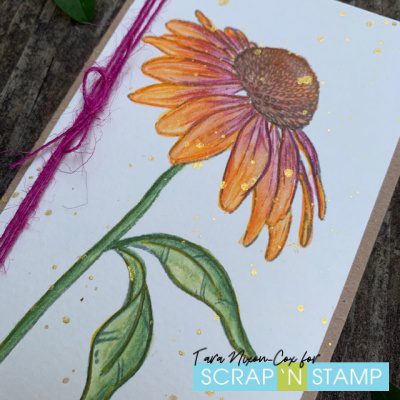 I added a the 'paper hug' sentiment, which I inked in a purple ink, then penciled over in orange to add an ombre effect.  A gold pen lightly over all of it adds a bit of extra shimmer too!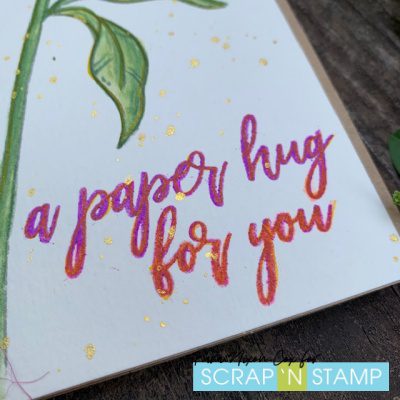 I can't wait to share with you what the rest of the team has been creating- hope it brings you warm fuzzies like a real hug, which I know most of us aren't getting near enough of these days with all the social distancing that is going on 😉  Next up on the hop is Chala– enjoy!  Here's the full list of links:
Happy Hopping!
Inky hugs,
Tara
Tags: blog hop, Gina K Designs, simple cards, Tuesday with Tara