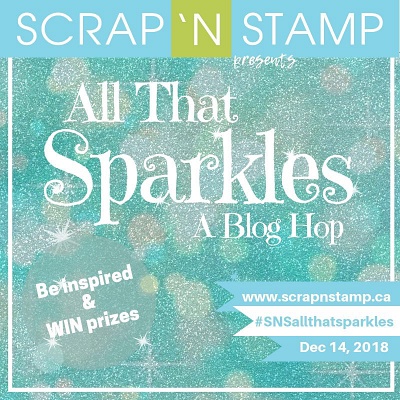 Welcome to our December blog hop!  This month we are celebrating ALL THAT SPARKLES and there is definitely a celebratory feel to the projects you'll enjoy today along the hop!  As always, there are prizes to be given randomly to some of you who leave comments along the hop!  There will be a prize from each blog- a fun sparkly surprise pack (5 total) plus a $25 gift certificate to the SNS online store!  So please, leave us some love- we so enjoy reading your comments and hearing your favorite things about our projects!
We also have a challenge with the same theme on Facebook, which has already been so much sparkly fun!  You've got until the end of the month to play along with us there!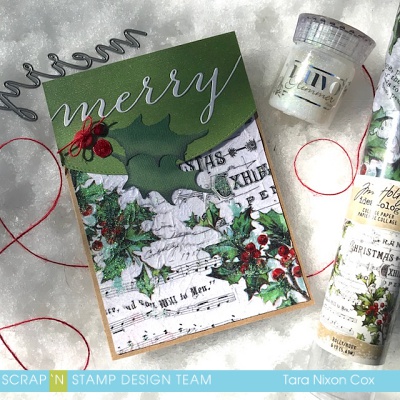 I decided to create a card with the Holly Collage Paper by Tim Holtz, and make it my most glittery element!  The roll is 6″ tall and I tore a piece to glue onto a 5″ card, crumpling it up a bit for extra texture.  I covered the card base with Multi Medium, smoothed out the crumpled collage paper over it and painted over it again to adhere it.  Once it was dry, I used a palette knife to scrape Nuvo Glimmer Paste over the entire surface, covering it in glittery, sparkly goodness!  I used the Moonstone paste, which is clear with shimmers in shades of gold, green & purple depending on the angle!  Definitely a sparkly background!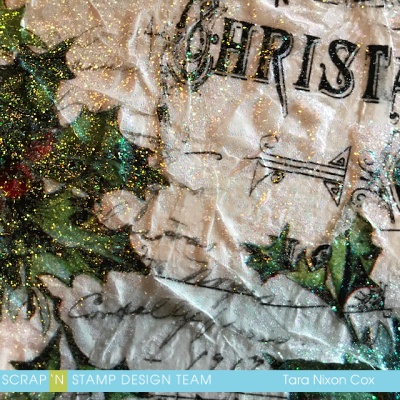 Once that was dry, I decided to go with a 5×7 card as my base, so I trimmed it down to 4.75″ wide and adhered it to the base.  I cut a rounded edge from a pearlescent cardstock to top my card, adding the Merry Cursive die cut from Memory Box across it (it's a few years old, so not in stock… but there are plenty of other pretty ones, like this).  I die cut large holly leaves by Tim Holtz, inked them a bit and added some embossing powder for a bit of shimmer.  I added a mix of three different holly berries to finish my card.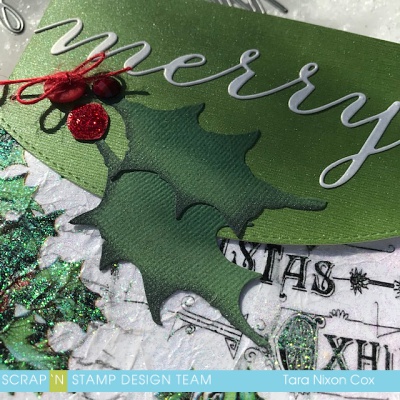 My finished card design is simple, but oh so sparkly!  I hope you like it.  I still have a ton of collage paper left on the roll, so I just might be making more of these pretty backgrounds!  I apologize for the shadowy photos… but I wasn't about to pass up a rare pre-Christmas snow fall as the backdrop to my pictures!
Now it's time to visit the rest of the design team!  Hop on over and see what the girls have made…
Don't forget to leave comments for a chance to win!  And be sure to join our Challenge as well for a chance to win a $50 gift certificate!
Inky hugs,
Tara