Happy Tuesday!
Today's card is for those people in our lives with birthdays on/around Halloween.  I'm combining my new MFT Buffalo Plaid Background stamp with a birthday wishes die cut and some autumn pumpkins… with an easy Halloween twist! As it turns out, everything is by MFT.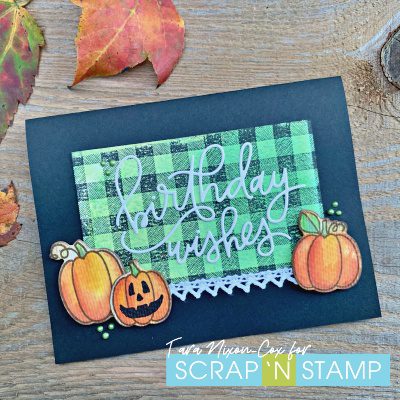 This card came together pretty quickly for me, since I used a few pre-inked/colored pieces that I had on my work space.  I stamped the plaid in black on a green inked panel of water color card stock.  Because of the texture in my paper, it has more of a vintage feel rather than a crisp new plaid.  I'd also colored up these pumpkins as extras when I was working on another card.  These were my 'imperfect' ones, with a bit of bleeding outside the lines, so I inked up the edges with a brown Distress Ink.  Again, this works with the vintage feel the card was getting.  I continued on with the theme and added a bit of white crocheted lace trim.  Next to the white sentiment, the trim seemed to really tie everything together!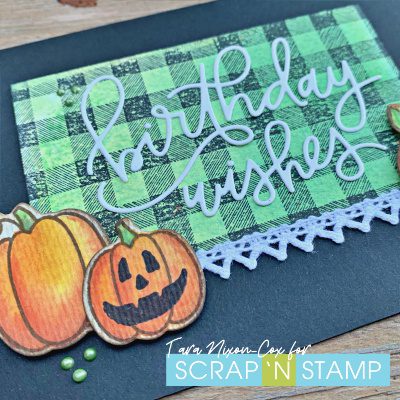 As I played around with the arrangement for my pumpkins, I got the idea to transform one of them into a jack-o-lantern. Since I don't have any 'face' stamps to use, I pulled out a black marker and got to work.  Anyone can draw a simple face like this- especially if you practice on a scrap of paper first to get the sizes right!  I finished everything off with a few dots of Bottle Green Nuvo Crystal Drops for that little bit of shimmer.
Hope it makes you smile!  Thanks for stopping by!
Inky hugs,
Tara