Happy Tuesday!
I was really stalling on making this card because I had plans to pick up the new Prize Ribbon Distress Ink bundle this week… but unfortunately I wasn't able to get them in my hands until Tuesday afternoon, which is a bit late for a Tuesday with Tara project to come together!  You can bet you'll see some of it next week though 🙂
Inspired by the challenge theme, "beach" I chose colors to resemble sand and sea and blended them together.  I chose a few shells from the same Jane Davenport stamp set I used for the blog hop.  The real inspiration for this card goes WAY back though- to card set I made with a tutorial for the Ranger blog.  It's no longer posted there, but I've got the full tutorial up on my blog for you to see!
Basically, it involves creating a simple torn paper mask and placing it over white card stock to do your ink blending over.  You could definitely use a straight cut or die cut edge as a mask as well, but I love the organic look of a torn edge and you can't beat the value of using some scrap paper for it!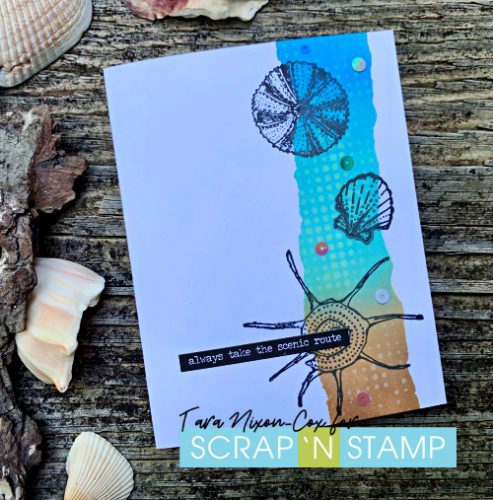 I chose to do a vertical card so my sand could be at the bottom of the blend.  I used Distress Oxide Inks this time and started in the middle, with Salvaged Patina, then added some Salty Ocean above it.  I worked from the bottom with Vintage Photo and then worked in a little bit of Wild Honey to soften the blend from brown to blue.  Instead of a stamp, I selected a stencil to add texture over the blend.  I used Picket Fence, but it ended up a tad yellow due to my lazy stencil cleaning…
Once I lifted my torn paper masks, I added my stamped images!  In retrospect, I probably should have allowed my Distress Oxide Inks to dry a bit longer before stamping, but it turned out okay.  A slightly smudged stamp isn't the end of the world!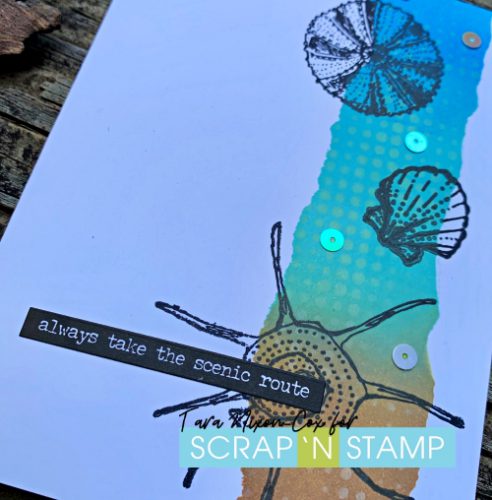 My finishing touches are a sentiment strip and some Picket Fence Sequins- aptly named Ocean Breeze (out of stock right now, but Spiked Ocean Water is equally fab and available!).  I hope this simple card is a reminder to you to always take the scenic route!
Inky hugs,
Tara
Tags: Distress Oxide, Tuesday with Tara