I had the best intentions of sharing with you fun new projects featuring Distress Glaze today… but a stomach bug is lingering in my house right now, and while I don't have it, I don't have any creative mojo either!  (I did get several bits and pieces made though, and they will show up in future makes!) So, I'm sharing a fun throwback to my very first make with Distress Glaze, which also happens to be the first of the 'new' Distress collection releases back in 2020.  Enjoy!
—
I'm so excited to have the new Speckled Egg Distress collection to play with, it's such a lovely color that is absolutely perfect with so many other colors and themes.  My goal on today's card was honestly just to play with it and some other new to me products!  Here's a photo of what I used (though I've got the wrong Nuvo product in this pic- I used the Nuvo Expanding Mousse today)!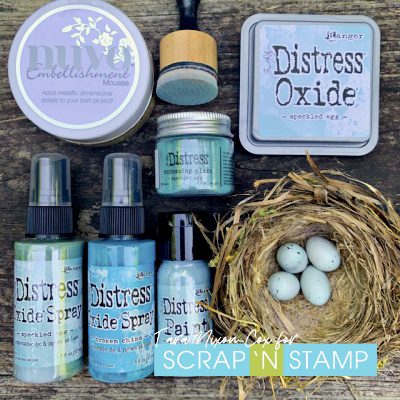 Here's a look at my card!  The background is a text stamp in black and Distress Oxide Spray splattered across the background.  The addition of Broken China with Speckled Egg brightens up the blue tones to really help the large flourish (from a large 12×12 stencil in my stash) pop.  The transparent wings I selected both had some hints of color in them already, but I painted some speckled egg Distress Paint on the back side where there were clear areas.  I love how this simple addition helped to tie everything together!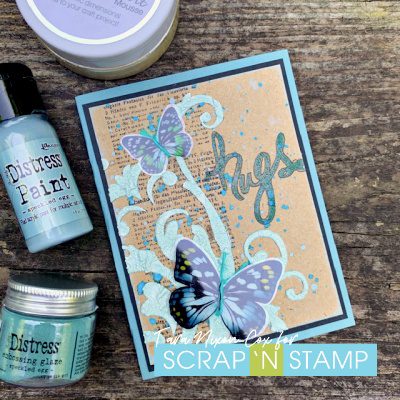 This was my first time playing with Distress Embossing Glaze, so I've used it in two ways on my card.  The sentiment is embossed over Broken China Distress Ink.  I stamped & embossed twice to get a bit more intensity.  I also sprinkled the glaze over the wet Nuvo Expanding Mousse, which I knew I would be heating to get that funky expansion happening. Here's a peek at the pearly finish of the mousse before it was bubbled up from the heat (I tried it on another surface and it does keep that shimmer after it puffs up).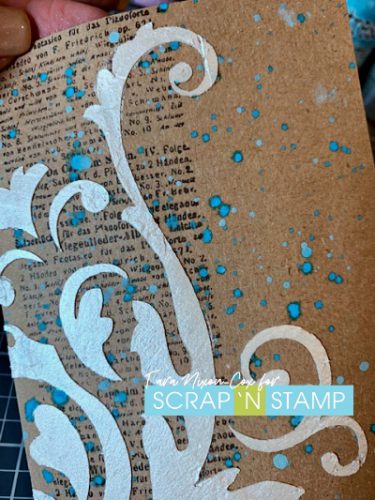 And here's a closer look at the details… as you can see, the glaze is translucent, so you can see the details underneath it on the sentiment.  It's fun stuff, and I look forward to playing with it some more!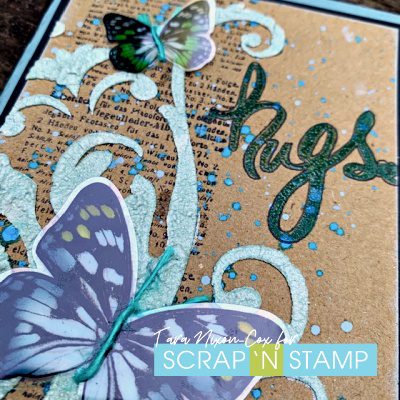 I had a lot of fun playing with my new BLUE Speckled Egg Distress products today, as well as combining them with a bit of Broken China Distress to brighten things up a bit!  Good stuff 🙂  I hope you like it!
Inky hugs,
Tara