hey… have you gotten your hands on any of the new Salvaged Patina Distress Ink products yet?  I splurged on the full bundle, (highly recommend!) but have barely had much of a chance to play yet.  I found a few minutes though, and decided to try creating some backgrounds with an authentic patina look.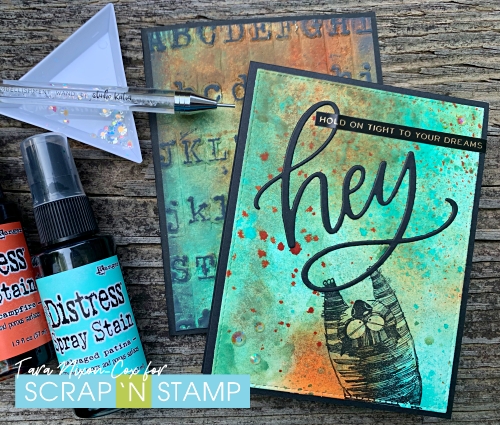 I worked with Distress Spray Stain for these cards, and worked on the Distress Mixed Media Heavystock since I knew things were going to get wet!  I decided to pair Salvaged Patina with the Crackling Campfire Spray Stain to bring out the coppery tones of a patina.  I was very impressed how easily I got this look with just these two colors!  I sprayed fairly heavily on one piece, then lifted it up at an angle to allow the colors to blend into each other a bit more.  I then set it back down and smooshed another piece of heavystock into it to pick up some of the excess ink.  I dabbed both pieces in the excess that was on my Kraft sheet and set the first aside to dry.  Since the second was quite a bit paler, I sprayed a bit more Salvaged Patina directly on it and then added some splatters of both colors.
My first background was nice & grungy looking, so while it was still slightly damp I decided to emboss it with the Typewriter 3D embossing folder.  I rubbed some black ink directly onto the raised surface and added a bit more around the edges for depth, then trimmed and turned it into a card front.  Love it!  I'll share a closer look at that one later when I finally finish it up!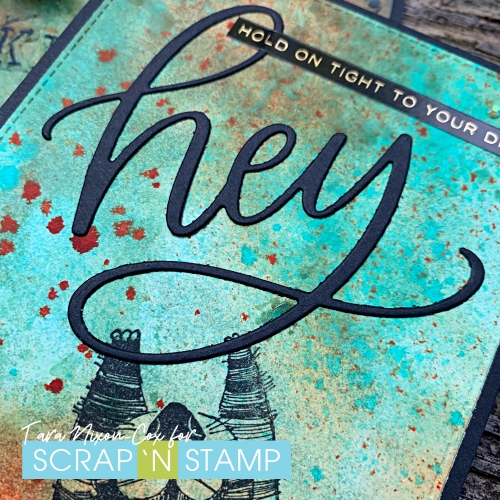 The lighter background gave me more of a blank canvas, fun for adding stamps & die cuts!  I chose this big HEY die by MFT and one of the Snarky Cat stamps together with a 'hold on tight' sentiment, since this guy was stamped to look like he's definitely holding on tight.  It's really a super simple card, but I didn't want to take away from the background.
I finished it off with a few iridescent crystals by Studio Katia.  I'm not sure the card really needed it, but I wanted to try out my new triangle tray and embellishment wand.  LOL.  A little bling never hurts, right!?
I'm looking forward to some more time to play with my new Salvaged Patina inks in the future, so don't be surprised if you see a lot of it on upcoming Tuesdays!
Inky hugs,
Tara
Tags: distress ink, tim holtz, Tuesday with Tara