Happy Tuesday!
Today I've got another simple, fun card for you that features a punny little rabbit from Tim Holtz's Funny Farm stamp set & a background created with the new Alcohol Pearl Inks!  I actually picked this set of inks to work with the Funny Farm stamps, thinking they were nice neutral colors for an earthy sort of background to go with the farm animals… and then I paired my background with a blue bunny. LOL. So much for neutral & earthy!  I stamped the bunny on a strip of cream card stock and decided to add some blue media marks as a border along the edges with Forget Me Not Archival Ink… I reached for a brown pencil and grabbed blue instead and I think he's pretty cute!  I kept thinking about the Velveteen Rabbit for some reason, though I'm pretty sure he was grey, right?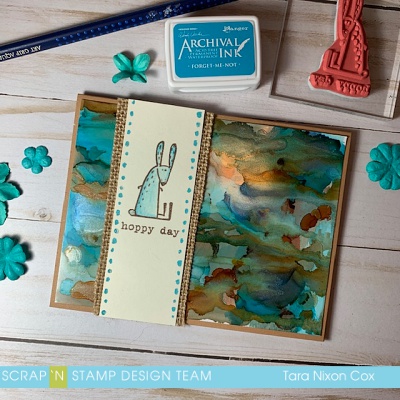 I wanted to show off as much of my background as possible, so layering the stamped image on a strip of burlap and adding a bit of Nuvo glitter is as fancy as I got.  For the background, however, I worked with the new Alcohol Pearl Ink Kit 4 and grabbed some coordinating colors (Stream, Aqua, Pebble & Rust) of regular Alcohol Inks from my stash (if yours look nothing like this it's because I've had these for YEARS. As long as your bottles are sealed, they will last you a very long time!). Together with Blending Solution, I was ready to play!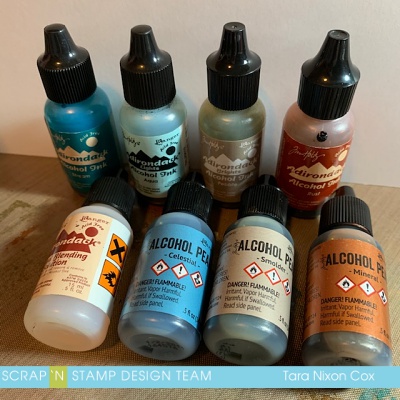 I made a few different backgrounds with this mix of colors… this one was created by dripping the inks onto Alcohol Ink Glossy Paper and holding the paper vertically to let the color drip down the page.  I added some larger spots and a mix of both types of ink and some blending solution and just kept adding and dripping until I was pleased with it.  It's really fun to watch the pearls drip- they shimmer so nicely!  Here's a look at my full background before I finished the card.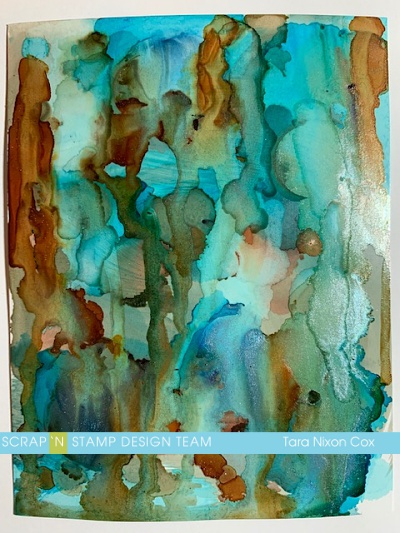 And here's an angled look at the finished card, to show you how the pearls shimmer…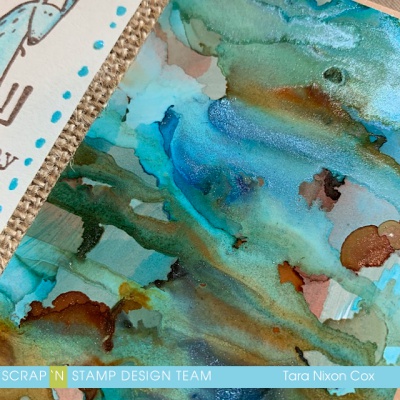 So pretty, right? They look just as fab with other inking techniques as well… I'll share some in a future post!
Hope you have a 'hoppy day' and maybe find a minute or two to play along with us on the Challenge Page before the month is through!
Inky hugs,
Tara
Tags: alcohol ink, alcohol pearl ink, Simple Card, tim holtz, Tuesday with Tara