Happy Tuesday!
Today's card has a slight flash back vibe… it's a similar design to the cards I made for our 'Background Check' blog hop and a similar background to the one I shared a couple Tuesdays ago, featuring new Alcohol Pearl Inks!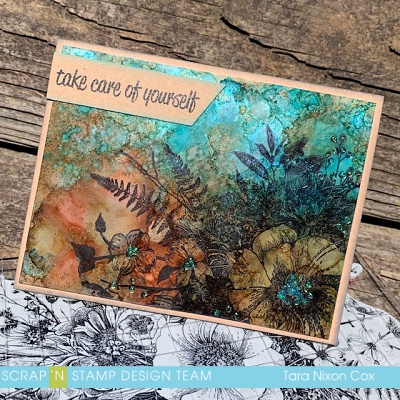 Once again, I've used the giant Glorious Garden stamp by Tim Holtz, this time I stamped it over a colorful alcohol ink background.  I worked with the new Alcohol Pearl Ink Kit 4 and grabbed some coordinating colors (Stream, Aqua, Pebble & Rust) of regular Alcohol Inks from my stash. This background was done with a felt applicator tool and some simple dabbing of the colors to create a mottled background on Alcohol Ink Glossy Paper.  It's very basic, and a bit dark so I was worried the image may not stand out as bold as I wanted it to.  I stamped with Black Archival Ink because I knew I'd get great results on the glossy background.  My sentiment was pre-printed, just trimmed to size (I made a bunch of these years ago and had assorted sentiments printed onto kraft business cards) and inked a bit on the edges.  I finished off the card with a bit of shimmer… some Nuvo Glitter drops in Aquatic Mist.  This card came together really quick, especially since I'd created the background on a previous day and it was just waiting to be completed!
That's a lot of the fun of creating backgrounds, like we are challenging you to do this month!  You may not always finish them, but they make things quick & easy when you are have a project to complete!  Hope to see your projects on facebook through the month of April!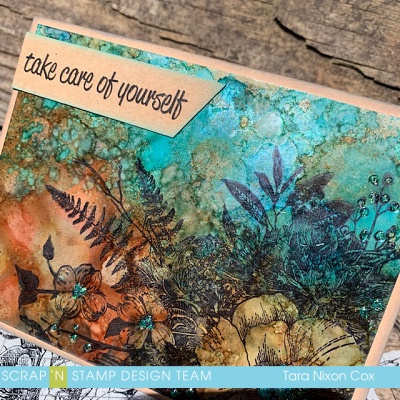 Inky hugs,
Tara
Tags: alcohol ink, tim holtz, Tuesday with Tara