Happy Tuesday! It's Thanksgiving in Canada next week and I'm looking forward to celebrating & enjoying a delicious meal with my family here in my southern home.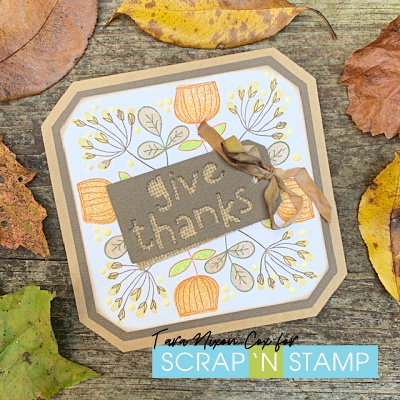 I had the opportunity to try out the Gina K Wreath Builder tool recently, and this image was what came of it. We stamped with a mix of three images from Sketchy Flowers by MFT, in three different colors of ink. I used the coordinating layering stamps to add more autumn colors to the mix.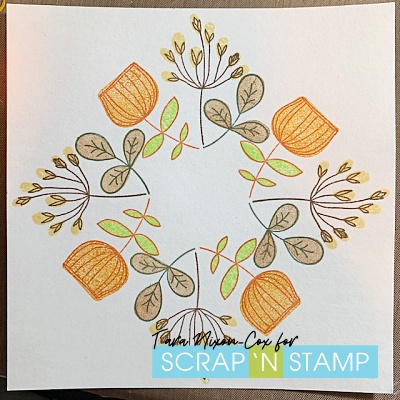 The stamps & placement caused this to be a very symmetrical, square image. I had to get creative when deciding how to crop it to mount on a card, since it was also on a large 6" square paper. As I started trimming the image down, I decided to embrace the cropped corners and create a shaped card. I added a dark brown layer and trimmed the corners to match the shape, then mounted it to a square 5.5" Kraft card before cropping the corners on it to match. It's been a while since I made a shaped card and I'd forgotten how fun they can be!
I had a different die cut picked out to use on this card, but changed my mind mid-process and decided to cut my own using the lowercase cutout alphanumeric dies by Tim Holtz. I cut them to fit a dark brown tag, which I layered over a second tag cut from burlap. It gives such great texture to this card!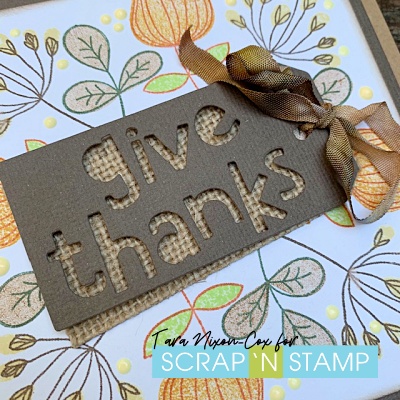 Little details that finish things off include a bow on the tags from hand dyed crinkle ribbon in shades of brown and glossy Nuvo drops around the floral design in buttermilk.
Inky hugs,
Tara
Tags: Gina K. Designs, MFT, Shaped card, Tuesday with Tara