Happy Tuesday! I wasn't sure I'd be able to get a Halloween project ready to share with you today. Then I remembered I had a background I'd prepared at a local make & take day and fun Happy Halloween die cut from Impression Obsession to use! I hope you like what I came up with 🙂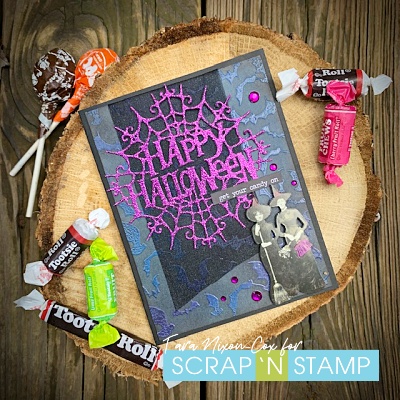 I chose to combine the two prepared elements with some wide, sheer black ribbon and paper dolls & chit chat sticker by Tim Holtz. The glittery paper Happy Halloween die cut is pretty fabulous, but didn't stand out like I wanted it to without that black layer behind it. I hated to cover up the fun background, but the sheer ribbon allows the design to peek through a bit.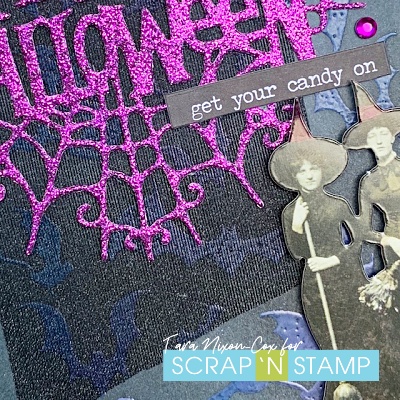 I added a bit of color to the witch paper dolls with a matching purple Copic Marker, then added a bit of bling in the same purple to the card as well. A Quickie Glue Pen was just what I needed to adhere the die cut to the card. It even sticks to the ribbon! (The ribbon was stuck down with a bit of Sookwang/ Be Creative tape hidden behind the die cut as well as on the back of the panel.)
Hope your week is a good one! Have fun getting your candy on 🙂 I'll be back on Friday, Nov. 1 to kick off our November blog hop… can't wait to share what the team has been working on with you!
Inky hugs,
Tara
Tags: halloween, impression obsession, Paper Dolls, Tuesday with Tara