Happy Tuesday!
Happy Tuesday with Tara! Today is the day a lot of kids & teachers are officially back in the swing of things with a new school year! I thought some more rainbows & coffee would be in order to help you get through the day! I'm sharing another fun rainbow card with the Coffee Understands stamp set by Picket Fence Studios, this one questions what we would do without coffee. As you can see by the sentiment, it's probably best that we don't find out the answer! ha!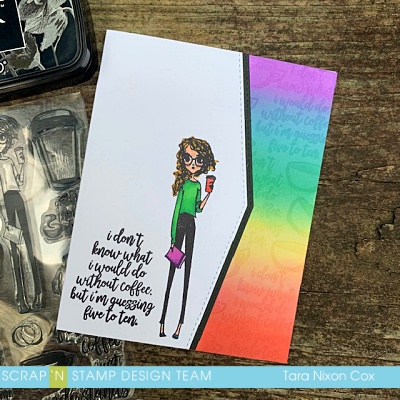 Simple Design.
There is something about this stamp image that makes me want to keep my card fairly simple. I love how long & lean she is (total opposite of me!). It looks like she's got her priorities straight, coffee in one hand, ready to take on the world (or a classroom, at least)!
Bold & Colorful.
Just because a card is simple does not mean it can't be bold & colorful! I paired bold black & white with a colorful rainbow panel I inked up with a variety of Distress Oxide Inks. The colors blend together so nicely and it ends up looking like I used a wider variety of colors than I actually did! Curiosity got me wondering what would happen if I stamped with a watermark ink pad over my inked rainbow… and I was pleased with how it came out! (I used Versamark, but I'm guessing this Gina K Embossing & Watermark Ink would work just as well!)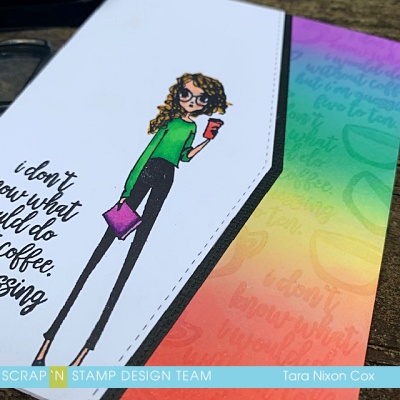 Details.
As I mentioned earlier, I tried to keep this card pretty simple. The stitched details from the edge die (by MFT) are repeated on the white card front and the black strip beside it. I stamped with bold black ink and repeated the sentiment in watermark on the rainbow panel. A single cup design from the stamp set was also repeated to fill in the gaps. Then I chose a few colors from the rainbow to brighten up my stamped image. Repeating details like the stamp images and colors kept the design feeling simple.
I hope you like my happy rainbow, and that you have no reason to find out what your day, week or year will be like without coffee!
Inky hugs,
Tara
Tags: Cards, coffee, Distress Oxide, Picket Fence Studios, rainbow, Simple Card, Tuesday with Tara