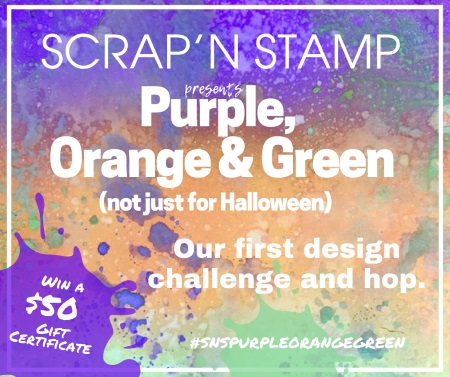 Thanks for stopping by!  We are excited to have you join us for another fun blog hop with our design team, but are even more excited this month to be kicking off a new CHALLENGE, which will be hosted in a new group that has been created on facebook!  The theme for both is:
Purple, Orange & Green- not just for Halloween!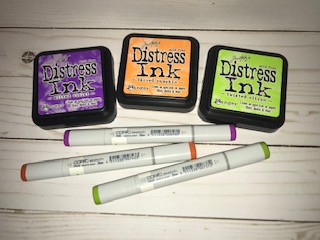 Take your inspiration from this palette of Distress Colors and create a project with mediums of your choice with a Halloween theme… or not!  We'll get your started with our projects along the blog hop.  As usual, please leave comments along the way for a chance to win one of three $25 gift certificates!  (winners will be announced on October 26th).  Then create your own project and share it with us in the new Facebook group- one random participant will win a $50 gift certificate, and ALL participants will get a special discount code to use in the store!  We will accept entries until November 1 and announce the challenge winner on Nov. 2.
I'll give you the full link up list at the end of this post… but it's time for me to show you what I made!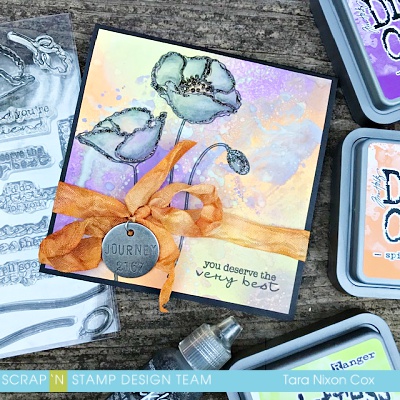 I played around with three colors of Distress Oxide ink colors (wilted violet, spiced marmalade, twisted citron) and made a few backgrounds.  I really wasn't sure where I was going with it, but decided to embrace the 'not just for Halloween' part of our theme and make a more 'holiday neutral' card (actually, I had my parents in mind making this… today is their 45th wedding anniversary!  Happy Anniversary Mom & Dad- sorry the card won't be there anywhere close to on time!).
I stamped the images from the Delicate Pretty Poppies set by MFT in black on my colorful background and did a bit of shading with a black stablio pencil.  It's a very pigment rich water based pencil, so I added a bit of shading and blended it out with a watercolor brush.  It gave me a very unique look on top of the Distress Oxide background… picked up a little of the color beneath it in some spots, but allowed for enough contrast to make my flowers pop against the background.  I tied some crinkle ribbon around the card with an oversized bow and added some Stickles details to the flowers- I was looking for a black like Black Diamond, but found Gunmetal so used that.  (It was still a bit wet when I took the photos, looks even better now!).  A pewter tag embellishment by Tim Holtz finished off my card…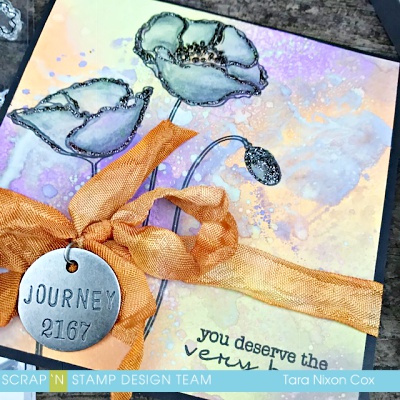 I wasn't sure about this card as I was working on it, but it's definitely grown on me!  It's a fun, unique color combo that definitely makes me think of Halloween… so I enjoyed mixing it up to create this card!  I can't wait for you to see what the rest of the team came up with to share with you!
Remember to leave comments along the way for a chance to be randomly chosen to win a gift certificate!  And check us out on facebook and join our new Challenge Page to play along with us!  We can't wait to see what you will create!
Inky hugs,
Tara