Hello Again!  It's Chala and I am back to share a bounty of backgrounds with you!  I will be using two simple techniques to create 9 cards!
Since I created so many cards it may be easier for you to watch the video.  It is a bit on the longer side, running approximately 24 minutes, but you can always skip through what you don't want to watch.  You can click HERE to watch the whole process and see all 9 cards I created.
The first technique I used was the "smooshing" technique with Watercolour Markers.  You can use any watercolour markers you have on hand.  I used some cheap Artist Loft as well as Zig Real Clean Brushes.  I love this technique for the cool loose backgrounds you get.  If you don't have watercolour markers, don't fret!  You can also use this technique with your Distress Inks!  Just smoosh them onto some acetate, squirt water and lay your panel down.  Just keep in mind where you put your colours down to avoid making "muddy" colours when they blend.
I let the panel soak up the "smooshed ink" until the panel starts to curl up.  You can then lay it down again to cover any spots that may have been missed.
I did four panels that were "loose" and the last panel I created I tried to control the scene a bit more as I wanted a "beach" feel.
I then went through my stash and found several dies and stamps that I haven't used in a while to layer over top.  I will provide a list below of the items I can link to.
Here is a look at a few of the cards I created using this technique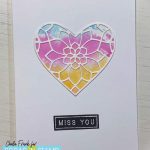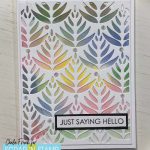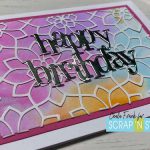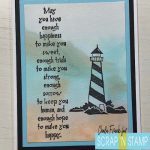 The next technique I used was overlaping Distress Oxide Ink blending with some masking.  Watch the video to find out how I avoided a sticky disaster!
This created some beautiful and bold backgrounds and it even created some custom colours by layers two different distress oxide colours on top of each other.  These beautiful backgrounds really speak for them self, so I just added some simple stamping and/or die cuts over top.  Here is a look at three of the cards I created using this technique.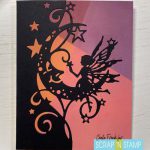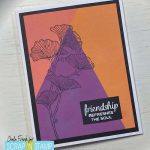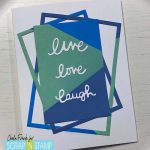 Again, I really encourage you to check out the video to see the entire process of how these cards came together.
I hope these cards have given you some inspiration to create your own bounty of backgrounds!
As promised ,here is a list of materials used with links where available.
Materials:
MFT Rectangle Stax set 2 – similar – Hero Arts Nesting Rectangle Dies
Post-it removable labelling tape
Artist Loft Watercolour Markers
Distress Oxide Ink in:  Spiced Marmalade, Abandoned Coral, Seedless Preserve, Cracked Pistachio, Faded Jeans, Salty Ocean
Concord & 9th – Alphabet Die set
Birch Press Kinsley Heart Layer set
Elizabeth Craft Dies – Leaf Pattern Background
Creative Expressions Luna Fairy Edger Die
Hero Arts – Thinking of You stamp set
Stampers Anonymous Beautifully Braided
White cardstock
Coloured Cardstock
Wendy Vecchi Make Art Stay-tion
Stay crafty my friends!
-Chala xoxox