Hello dear friends!
Chala here for today's prompt word "Snowflakes" and I will be using the Gina K Holiday Hexagons for my card.  I also think the Folk Art Snowflakes would be cute as well.
It is that time of year again when we need to embrace the colder weather (and snow) and what better way to celebrate than to play in your craft room where it is nice and warm and cozy!
The first step to create this card is to prepare the "ripped mask" to place on the top and bottom of the card.  You can tear the masking paper yourself or use a tear ruler like I did.
I then lay the masks down to create a strip in the middle of the horizontally laid card panel where we will place our images.  I used and ink blending brush and broken china distress ink to lightly lay down a layer of ink.  Don't pull up the masking paper yet!  We want to stamp our snowflake images next.
Next I will lay the panel in my stamp platform and arrange the hexagon snowflakes in a pleasing pattern and ensuring part of the snowflake is on the exposed card panel and the other part is over top of the mask.  I then stamp the snowflake images in the faded jeans distress ink.
The fun part is removing the masking paper to see the image we created underneath.
The last thing we need to do to the panel is stamp our sentiment.  I used Versamark Watermark ink and silver embossing power.
I trimmed the panel down so I could add a layer of silver chrome mirrored cardstock to frame it out and then adhered the entire panel onto a horizontal top folding card base.
Here is the finished card.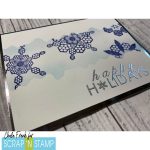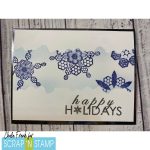 Thanks for stopping by and enjoy the rest of your day!
~Chala