Archive for the 'Photo Play' Category
Friday, July 1st, 2022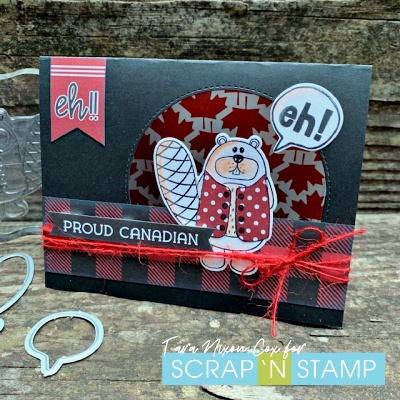 Hope you have a fabulous Canada Day!
(card details can be found in this post in 2020)
Tuesday, June 14th, 2022
Happy Tuesday!
Can we talk about how awesome you are?
I just love the versatility of the 'awesome' stamp set by PhotoPlay and today I decided to play with it in shades of blue.  Specifically, I used Prize Ribbon Distress in a variety of forms for this card!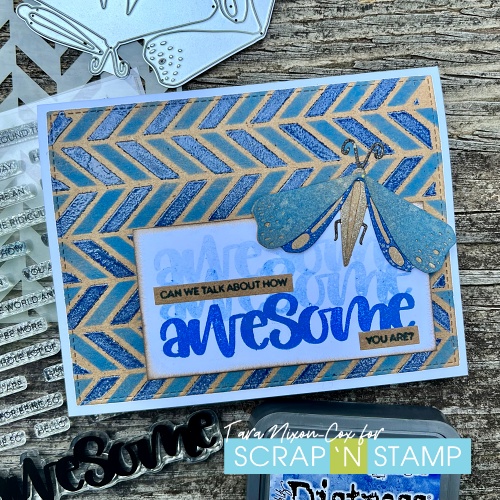 Starting with the sentiment- I stamped it simply with Prize Ribbon Distress Oxide Ink, then faded above it with a couple repeat stamps.  I didn't add water or anything, just kept going to build a sentiment block which would be my card's focal point.
I used Distress Oxide Again as the starting point for my chevron background.  This was my first time using the flip flop chevron stencil by Simon Hurley, and it's so fun!  Since Distress Oxide is so fabulous on Kraft, I thought it would be a fun way to start.  This stencil. has gaps in it so you can flip it over and create a pattern with two different colors- or in this case, textures!  For the flop side, I used a texture paste and sprinkled Distress Embossing Glaze over it.  Heating to melt the powder while the paste was still wet added to the texture here!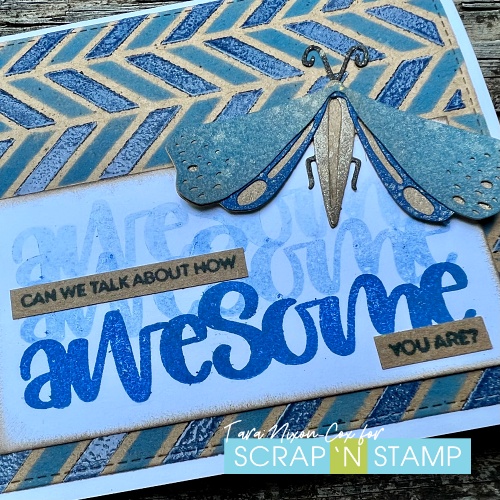 As a final element for my card, I die cut one of the Tim Holtz funky insect dies from Kraft and colored it with more Prize Ribbon!  The top wings are Distress Oxide and the lower ones were painted.  I sprayed all the pieces with Mica Spray before gluing them together for a bit of shimmer!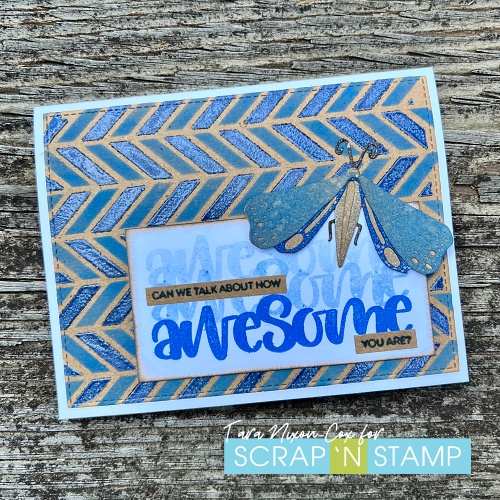 I'm really pleased with how all the different mediums worked together on this card, it was a fun one to make as it seemed to have a mind of it's own… pretty awesome!
Inky hugs,
Tara
Monday, March 21st, 2022
The calendar has moved into SPRING here in Canada! (I'm just gonna ignore the snow in the backyard…) And so my word for today's Random Acts of Cardness challenge: SUNSHINE. I was tempted to make a beach scene, because wow, I miss the beach 😉 , but then my thoughts turned to Easter: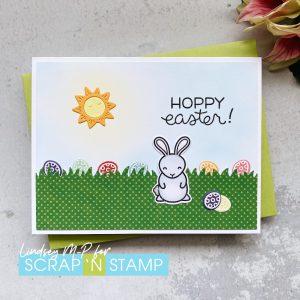 I still wanted to make sure my sun motif was prominent, so I started blending my sky background with some squeezed lemonade distress ink to give my whittle sun a nice sunny glow around it. The rest of the sky is blended with tumbled glass distress ink to keep the background light. I was going to cut the grass out of regular green cardstock, but this Photo Play polka dot paper happened to be out, and I thought it would be a fun addition.  The Easter bunny, eggs and sentiment are all from a mini Lawn Fawn stamp set. There are days I might colour all the different Easter eggs… and days like today when I cut them from scraps of coloured cardstock. 😉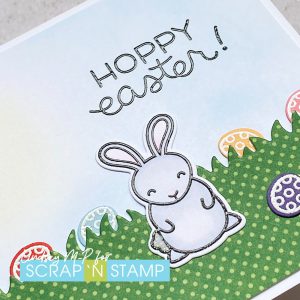 Are you like me, ready for some spring sunshine? Hope you'll play along!