Happy Tuesday!  It's becoming clear to me that Easter is early this year… so I thought I'd share a bit of Easter inspiration with you today!  This is a tag I made inspired by techniques by Tim Holtz, I've always loved his '12 tags' series and taking the techniques to create my own unique tag using the materials that I have on hand.  I've been a bit slack keeping up with them… but as I look at projects from previous years, it inspires me to continue!  And I have to say I love his 'remix' theme this year, giving a fresh take to older tags!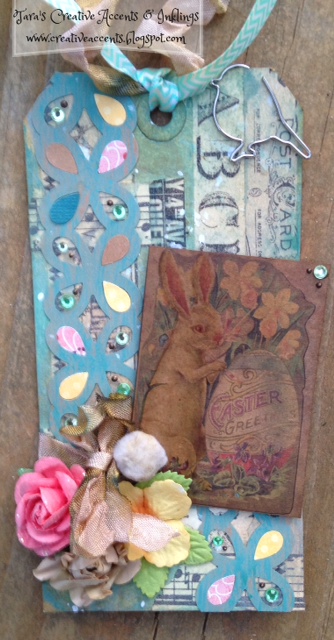 Here's the tag that inspired mine- as you can see I made a few changes, including adding an Easter image, which is an image from one of Tim's seasonal paper pads.  I did follow the background technique (using tissue tape, Distress Paint & Distress Ink), so you can check that out on his blog since he's already given excellent instructions 🙂  I used a paper punch that had a similar design to the die and assorted Prima flowers instead of creating my own.  Of course I added some Crinkle Ribbon into the mix!  Here's a couple close ups for you: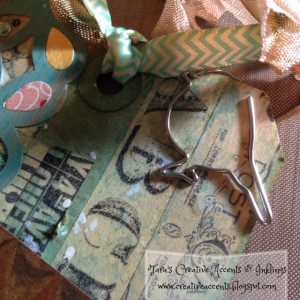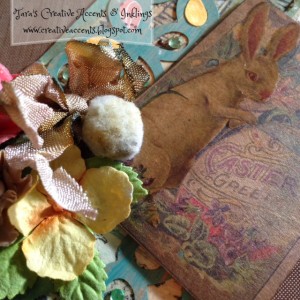 And here's a bonus card I created with extra supplies from my tag: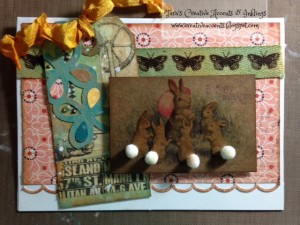 I love using those extra bits to create a mini tag, and then turning it into a card 🙂
This week I've got another giveaway… a little something to help inspire your spring creativity!  But first, here's who won last week's giveaway:

Heather!

You are this week's random winner of some Distress Watercolor Cardstock 🙂  Contact us with your mailing address and we'll send it your way!
How about a chance to win a Memory Box die?  Just comment and let me know your favourite spring flower and you could win this little cutie:
As we've been doing the last few weeks, you can get an extra entry on our facebook page as well!  Look for the question on the current pinned post!
Have a creative week,
Inky hugs,
Tara