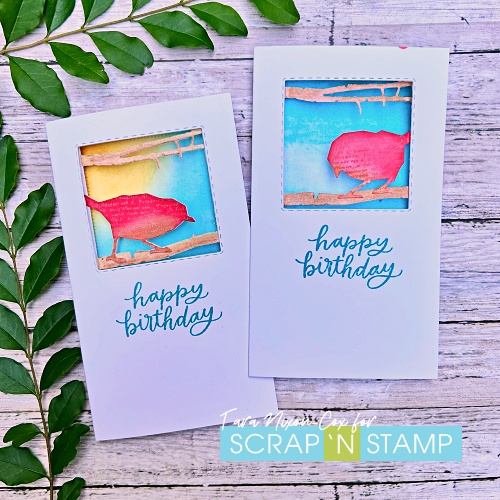 Since I'm inspired by our Windows of Wonder Inspiration Hop theme, I thought I'd share another window themed card!  This is another mini slim- a gatefold card that measures 3.5×6″ and features frames from the Picket Fence Slimline System, together with Tim Holtz Silhouette birds.
As you can see, I actually have two cards to share… one of which was completed during my Facebook Crafty Live last Saturday!
I've used the stitched frame for the front (open left) panel and the bare tree/branches die for the middle (open right) panel.  Behind them both I've attached a slightly larger die cut square, which was inked to resemble the sunny sky.  A die cut bird is perched on the branch, colored up in bold red.
I die cut & scored the panels in advance, then completed the card on a Facebook live video, which I'll link to below- I'd love to have you watch it!
Hopefully you were able to catch the replay of the live! If it doesn't show up embedded in this post, please click here to see it on Facebook 🙂
I've included a few more photos of the open card on my personal blog, if you'd like a closer look!
Thanks for stopping by!
Inky hugs,
Tara