Today I'm sharing a bit of created play with the latest Distress color bundle (which I was a bit slow getting my hands on), Saltwater Taffy!  It's such a pretty pinky coral tone that really is a shade I've found to be missing in the Distress line on more than one occasion- and as I've played with it I'm really seeing that it changes depending on the medium and substrate (surface) you use it on. It'll be a fun one, for sure!   As I do when I get most of the new collections, I get a bit overwhelmed at first and just start out playing- just trying it out and then figure out what I'll make with it later!  Today that ended up being a delicate tag, which is a bit of a stretch for me… but I'll be experimenting with the wild side of Saltwater Taffy later, too!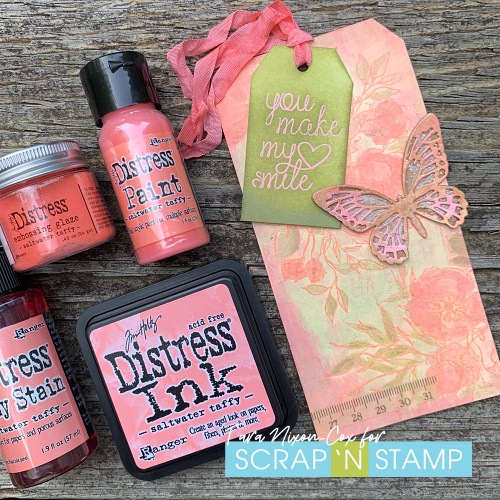 For the tag today I used the regular Distress Ink, Spray Stain, Embossing Glaze & Paint.  I stamped and embossed floral outlines stamps on a tag as well as a sentiment on a smaller white tag with the Embossing Glaze.  I colored some narrow crinkle ribbon (seam binding tape) with the Distress Spray Stain & let it dry overnight.
I smooshed Distress Ink (along with Peeled Paint and Salvaged Patina) on my Kraft sheet to watercolor the flowers loosely, then did a bit of a sheer white paint wash over it and brushed some Distress Paint over the edges of the tag when it was done.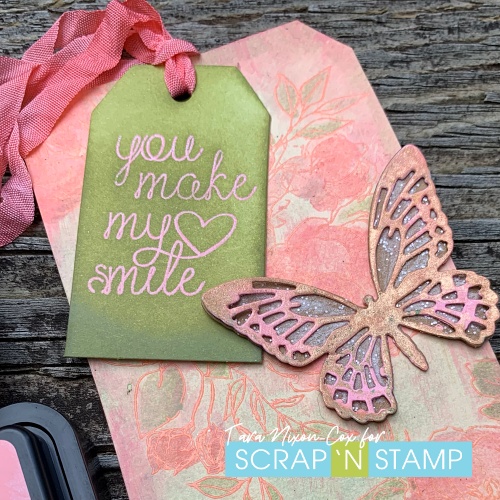 The die cut cut butterfly is honestly a bit of a random touch… I rubbed it in excess ink on my Kraft sheet and then misted it with Mica Spray for some grungy shimmer!  The under layer has a bit of white pencil & distress glitter over Kraft.
All in all, this tag is a bit pretty and a bit grungy and a whole lot Saltwater Taffy!  Hope you like it- I'm looking forward to playing with this new color some more!
Inky hugs (and fingers!)
Tara