Happy Saturday!! Today's keyword on the SNS Challenge Facebook page is "Mixed Media". I've only just begun to dive into the world of mixed media and art journaling. It's always interested me and there's so many talented art journalers out there! I could spend hours watching videos! So, after a bit of research, ie YouTube, I got a couple of must haves and started my own.
Here is a list of must haves. It's a short one. You likely have almost everything you need already!
Gesso…paper prep. Acts like primer for your walls. Can also be used as a white paint.
Gel Medium…gluing down papers (collage) and also seals the page
An inexpensive set of brushes…to apply your mediums
That's it! You don't even need an expensive journal! The first page I ever did was in an old book and it worked perfectly. I've started working in these traveller's notebooks from Amazon. They are the perfect size so not too intimidating. Plus, they're cheap and come in a pack of 3!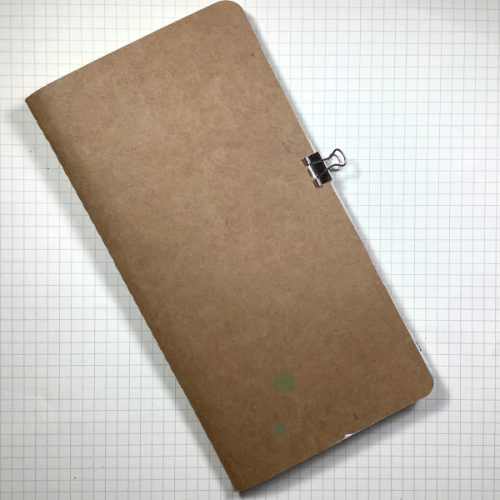 To start, I glue to pages together with the Gel Medium. This bulks it up a bit. On this particular layout, I used papers from the Dina Wakley Collage Papers-Backgrounds. This is thin tissue paper. Just rip it up, apply a thin layer of gel medium to your page, stick the paper down and then seal it with a light layer of the gel medium again! Don't overthink on the placement!!! Make it random and messy. I never have a plan when going into this and as a beginner, I think this is easiest.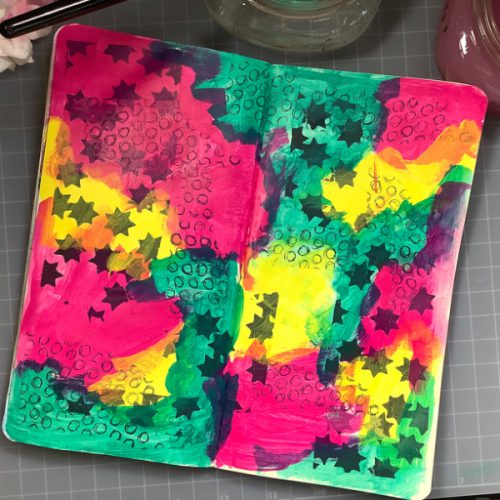 This is after the collage paper were adhered and the paint was applied. Looks awful, right? THat's ok, just go with it! I used Dylusions Acrylic Paints in the colours Bubblegum Pink, Lemon Zest and Polished Jade. Remember, you don't need special paints!! Use what you have. Watercolours of any sort work great too!
This is where the gesso comes in handy. Or any white acrylic paint. I used a thin coat of gesso over the entire page to tone down that crazy background. Then it was time to add more stuff. For my focal images I used the Oh, Snap Stamp Set from Concord and 9th. Again, I'm using what's in my stash.
I used Versafine Onyx Black Ink for the stamping. It's waterproof so I know I'm safe to add more stuff overtop. Let's have another look.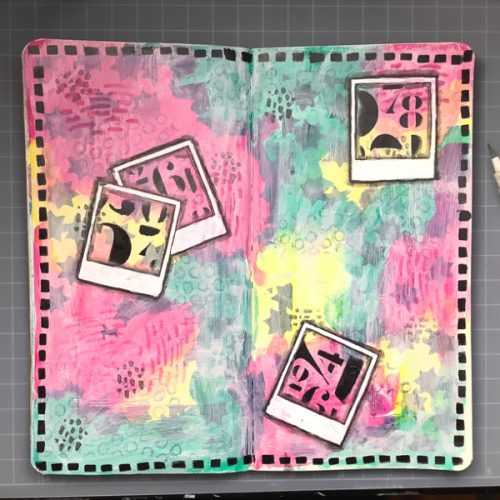 You can see how the gesso tamed things down a bit. I took a random stamp set in my stash that had some random strokes and dots and did some more stamping. I stamped a few of the polaroid images and added a border using Black Marble Paint and the A Stitch in Time Small Stencil. On the inner portion of the frames, I used the Mini Stencil Set #7 from Tim Holtz. I love this stencil set! I didn't take the time to mask anything off, just carefully blotted the ink with a makeup sponge wedge.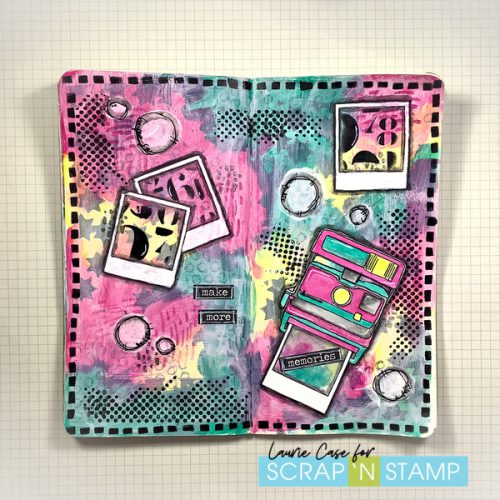 I stamped and fussy cut the camera image and painted it using the same paints as the background. You can see I covered up the lower right frame I originally stamped. I didn't preplan where the camera was going to go but it worked out in the end!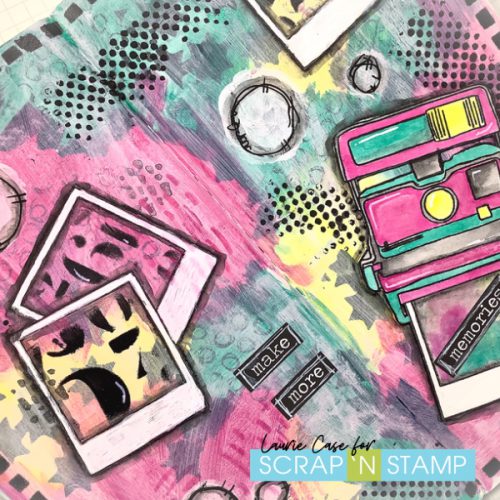 The sentiment strips come from a sticker book similar to this. I use a white pencil, or gel pen to add details throughout the page.
You may also notice that I've added some white circles. I again used the gesso for this along with my finger. The page was still a bit too bright for me so by adding more white it helps tame it down but also adds more interest. I outlined each circle with a black pen.
We're almost done! At the last minute, I decided to add some more stenciling using Black Embossing Paste(Black Gesso would also work for this) and the Halftone Borders Stencil from TCW.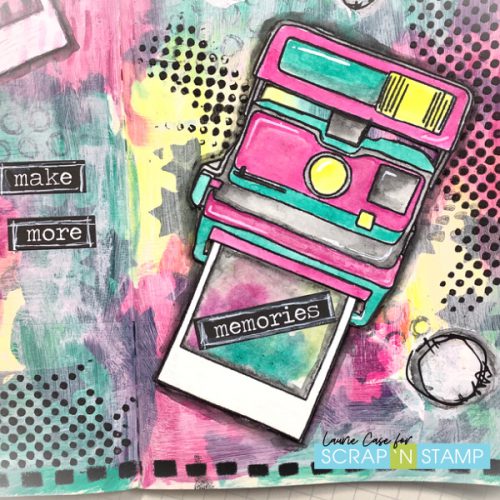 And that wraps it up! What I love about art journaling is that there really aren't any rules. Just slap stuff down onto your paper and go with it!!
Thanks for sticking around for this rather long post, I hope you enjoyed!
Have a great day!
Laurie