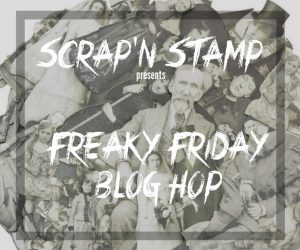 Happy Friday the 13th!  Today we are excited to have another fun Designer's Challenge BLOG HOP for you, this time we have 8 ladies who have each created a project with the second set of
Tim Holtz Paper Dolls 'Ancestors'
which includes some fun, spooky Halloween type images!  You'll find the full set of links at the bottom of this post, and each post along the way should have a link to the person after them.  If you get lost, please check back here so you can see ALL the creative projects in our Freaky Friday Blog Hop!
Plus….Who says Friday the 13th is bad luck? Here's your chance to win! Scrap'n Stamp is giving away a $25 coupon for every stop on the blog hop! So make sure to take a moment and comment on on all the designer's fabulous work. Winners will be announced HERE & on Facebook Oct 20th and must email Scrap'n Stamp to claim their prize! GOOD LUCK!
I've been enjoying getting creative with the Paper Dolls by Tim Holtz, and these new additions add a creepy touch to the mix… there are a few seasonal images included, with costumes and pumpkins, as well as some regular type portraits with creepy expressions!  It's a nice mix if you want a variety of paper dolls to work with!  I chose to use some of the 'regular'  images and make a creepy/romantic tag, pairing a couple of single dolls together.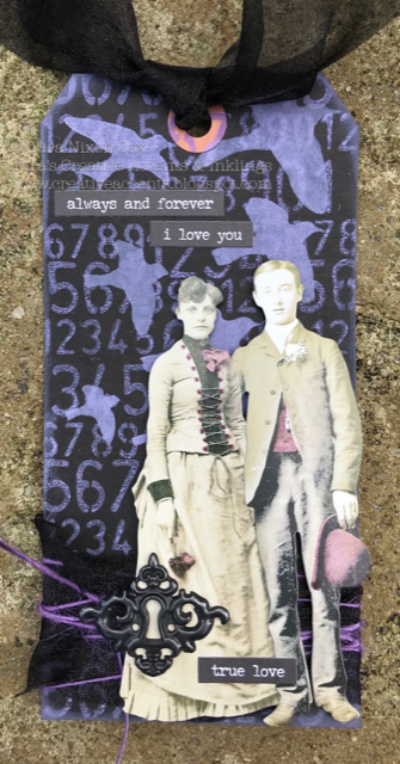 My plan was to create a set of tags that could be attached to treat bags for Halloween- if it happens, this one will go on the one I give my husband 🙂
I started with black #8 tags and Distress Oxide Ink, stamping a background pattern (new Myers by Dyan Reavely) directly on the tag, then applying the same ink through a stencil (birds by Dina Wakley) over it to create my background design (I am not a big Halloween crafter, so chose some 'neutral' designs that I thought would work with the overall feel I was going for.  It's good to have basics in your stash!).  I selected my paper dolls and chose to add a few spots of color to them with Distress Markers.  I didn't have a perfect match, but wanted a monochromatic look for this tag so went with a similar shade of purple.  The inky puddled a little bit in some places, so I dabbed with a cloth until I got the desired look.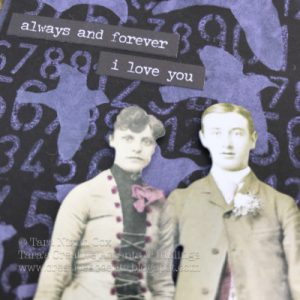 I wrapped some sheer black ribbon with twine to add texture and finished it off with a metal embellishment (this fancy lock is by Prima) and some occasions chit chat stickers.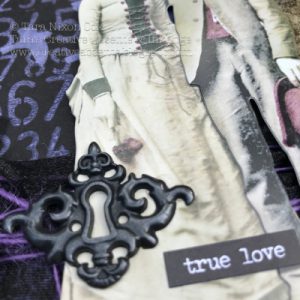 I created a couple more tags as well, which you can see all together here.   Here's a shot of the backgrounds I started with…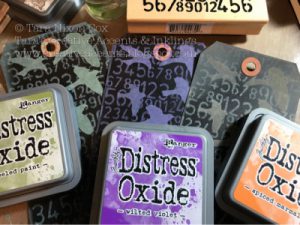 … and the set of finished tags: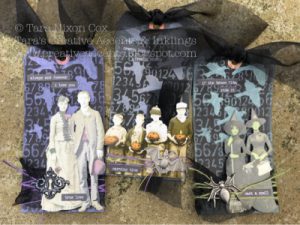 I hope you enjoyed my simple tag- I can promise you, you're gonna be blown away by some of the spooky creations coming up in the hop.  Some of the ladies have a ton of fun Halloween themed products and they know how to rock it 🙂  Enjoy, and let us know what you think of the hop!  Remember there's a chance to win a $25 gc on each blog!  When you're all done, be sure to
stop by the store
and pick up some of the products that inspire you!  There's some great deals today, including many items $13 off!
Freaky Friday Blog Hop
Tara Nixon Cox (you're starting here!)
Karla Yungwirth
Amber Trubiak
Karen Warner
Nicole Wright
Nancy Frustaci
Niki Stone
Julia Chupik
Inky hugs!
Tara