Hi everyone! Kate here with a fun Dreamweaver Stencil Tutorial.
I am really excited to show you a couple of really cool ways that you can use your Dreamweaver Stencils in your Big Shot to emboss designs just like you would with Sizzix Texturz, Spellbinders dies or any of the embossing folders from Sizzix, Cuttlebug or Crafts Too. And, then I'm going to pump it up a notch and show you how to cut and use the Spellbinders Tan Embossing Mats to create unique embossed shapes. Using your Dreamweaver Stencils this way is so much fun so let's get started!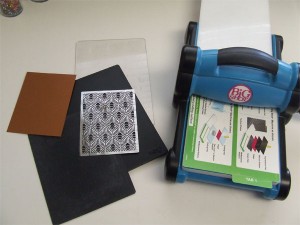 First, I will cover the basic embossing technique. For this you will need your Big Shot with the Multi-purpose platform, a clear cutting pad, Sizzix Texturz Silicone Rubber Mat & Sizzix Texturz Impressions Pad, a Dreamweaver stencil and cardstock.
The most important thing is to make sure that you get your 'sandwich' right. If you do this then you will get terrific results every time.
Stencil Embossing Sandwich (from the bottom up):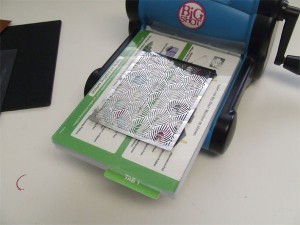 1 – Multi-purpose Platform (Tab 1)
2 – Clear cutting pad
3 – Dreamweaver stencil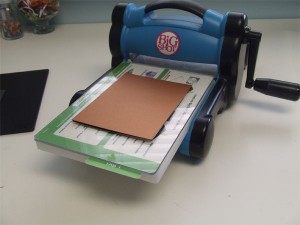 4 – Cardstock (with the side you want the embossing on facing down)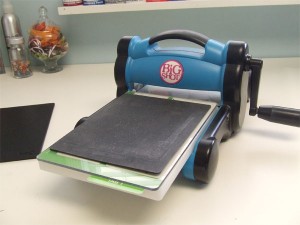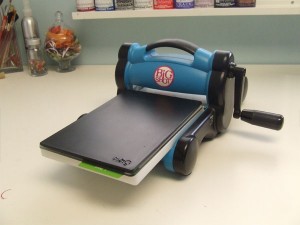 Roll through your Big Shot and voila! You have a beautiful embossed image. Easy, right?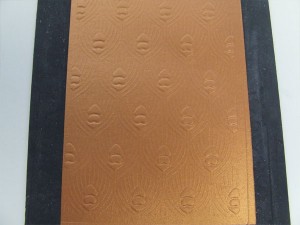 Here is the card that I made with it. The embossing just adds a little bit more dimension and interest to the card front, don't you think?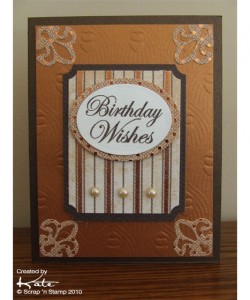 Now, let's pump it up a notch. I'm going to show you how to emboss just part of your image so that you can create unique shapes and borders for your projects.
With this technique your Dreamweaver stencils just got even more versatile! And the only extra thing that you will need is a Spellbinders 12 x 12 Tan Embossing Pad or a package of the 4 1/2″ x 6″ Tan Embossing Pads that you will cut up to create different embossed shapes. I know…I wasn't sure about cutting up embossing pads either when I first heard about this technique but you will be using your pieces that you cut over and over so it's okay. You can cut your tan pads with a craft knife, Tim Holtz Serrated Scissors or the EZ Mount Craft Scissors. You will also need something to mark your shapes on the embossing pad. I use a Sharpie marker but a ball point pen will also work. It just needs to be something that won't rub off.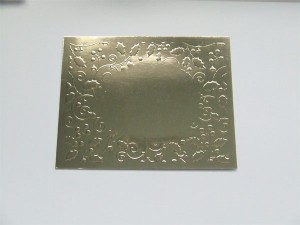 Say you wanted to emboss the outer area on a large background stencil and leave an oval in the center plain. How would you do that? It's easier than you might think.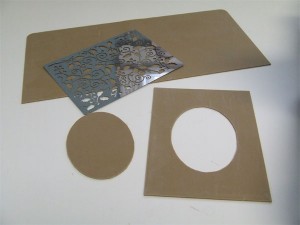 The first step is to cut your embossing pad to the size that you want to emboss.  In this case I cut a tan mat 4 1/4″ x 5 1/2″  because I was using a large Dreamweaver background stencil and was making an A2 card. Then used a Spellbinders Oval Nestabilities to trace the oval shape onto the center of the embossing pad. Using a craft knife I cut out the oval and now had two shapes that I can use to emboss parts of the image on my stencil.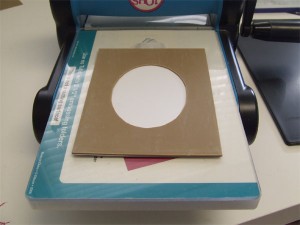 To emboss the design with the oval shape plain you simply layer everything using the Stencil Embossing Sandwich except that I removed Tab 1 and just used the bottom platform. You may have to do this so that the embossing pad, paper or stencil doesn't shift too much. Each machine is different to experiment with yours until you get the results you like.  Run the sandwich through your Big Shot and this is how it looks – your design is only embossed where the tan embossing pad covered the stencil. It's that cool?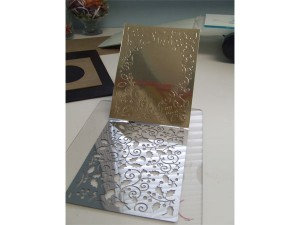 And here is my finished card. The picture isn't the best because the gold foil paper was reflecting me taking the picture but you get the idea.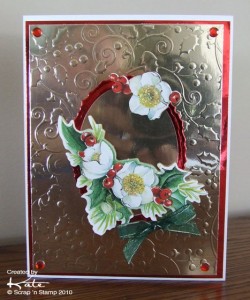 Just think about all the custom elements you can make for your cards and scrapbook projects.
But that's not all you can do. Just by changing the shape of your embossing pad you can emboss borders along the side or bottom of your project. Or maybe you would like to have embossing just across the middle of your card. Well, it's really easy.
Let me show you how to emboss just along the side of an A2 card front.
First I cut my cardstock a little bit bigger than I wanted it, then I cut a piece of tan embossing pad the size that I wanted my embossing to end up (1 1/2″ wide and 5 1/8″ long). Now I made my sandwich using the base platform and then I taped the stencil and the cardstock to the clear plate using some Scotch Removable tape to keep everything from moving. Just make sure that you put the tape away from the area where you will be putting the embossing pad. I also positioned the cardstock so that the edges were along the top and sides of the stencil design so that I could place the embossing pad exactly where I wanted it.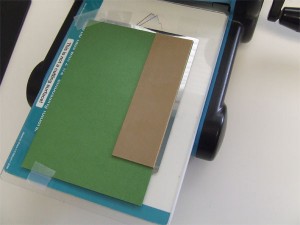 I completed the sandwich with the Texturz Impressions Pad, ran it through my Big Shot and as you can see I was able to create an embossed border just where I wanted it. How cool is that?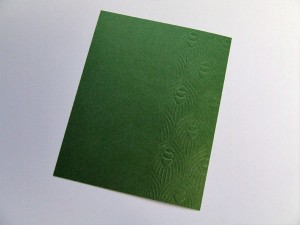 It made the perfect base for this card. The embossing is subtle but a nice finishing touch.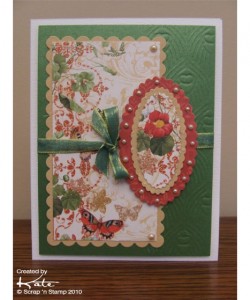 Well, that's it for this tutorial. There's really no limit to what you can do with this technique. Different stencils and papers will create totally different looks. It's a lot of fun to see how each piece looks after you have put it through your Big Shot. A fun surprise each time. I hope you give it a try and have as much fun as I did making the cards for this tutorial.
© Scrap 'n Stamp Canada 2010
Tags: Big Shot, Dreamweaver Stencils, embossing, Techniques, Tuesday Tutorial