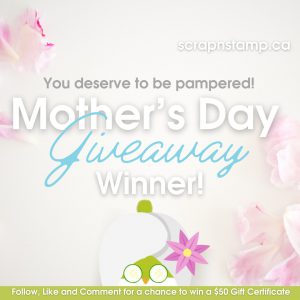 Hello crafty friends!  We're excited to announce our winner for the Pamper Yourself Mother's Day Giveaway, we hope everyone was able to celebrate with relaxation and crafts!
And the winner is….
Cammy Huynh (@kmi_h)
Congratulations! To claim your prize check out all the details here: https://www.scrapnstamp.ca/store/pc/Prize-Claim-1p22568.htm
Find us on Facebook and Instagram for all the latest giveaways, news and events!
Crafty hugs,
Jess