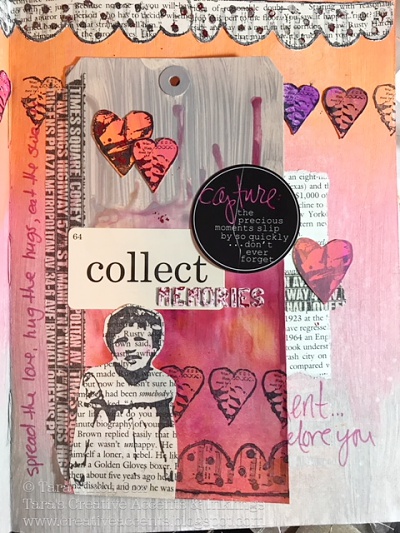 Happy Tuesday!
Today I'm sharing with you an art journal page I made inspired by the current #ShowUsYourMEdia challenge over at the Ranger blog and all the love & hearts of the upcoming Valentines Day holiday. This page went with more of a self-love type theme though, since the current challenge theme is "Live in the Moment".
I inked up some new to me Dina Wakley stamps (the Gals & Borders set) and some pre-stamped heart cut outs from another set (Collaged hearts) and knew I was working with hearts and girls… I played around with making a card at first, but the design kept getting bigger on me, so I decided on some art therapy in my Media Journal 🙂
The pre-stamped hearts were also pre-painted, so I started by choosing colors to work with them.  I went with a watered down gradient for my background, using a mix of three colors and a generous spritz of water to help them blend.  I then added stamped borders across the page, and a torn piece of book print as a central point which would peek under the tag… with a small collage hidden with the tag flap was down.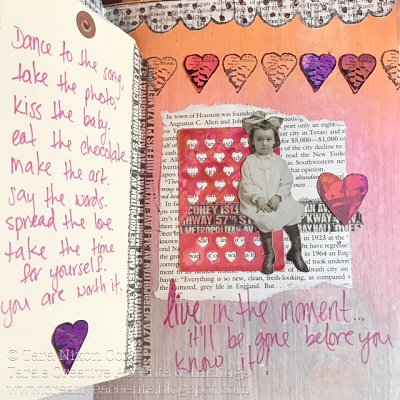 I added some journaling on the back of the tag- a to-do list of sorts to help remind me to live in the moment  The tag was painted first with some elephant along the top, then I added some fushia to the mix to darken things up.  I spritzed it heavily to get the drips so see along the top of the tag.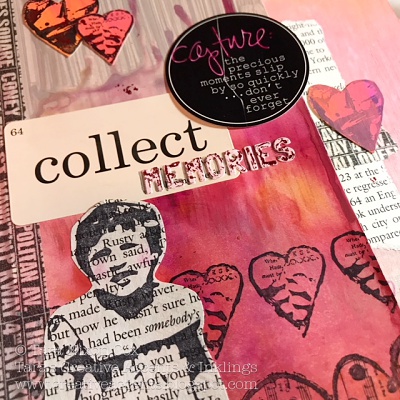 The heart ATC you see under the tag was dipped in the leftover paint and smooshed (pretty sure that's the technical term!) a bit before it dried.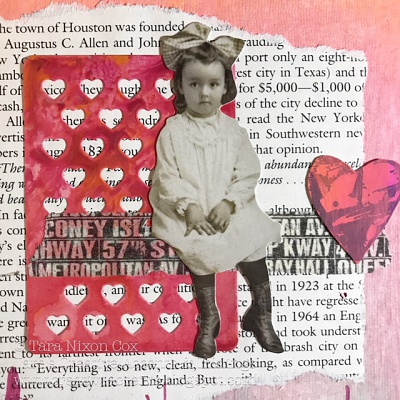 I finished everything off with some stickers from my stash, a touch of foil from the blog hop (there's still time to comment and win some foil!) and some hand-written journaling.  Then I called it done, as Dina says: "Done is better than perfect" 🙂
So, whether you have a valentine or not, be sure to include some self-love and art therapy in the season!  Eat the chocolate, Ink the stamp, Paint the paper… you're worth it!
Inky hugs,
Tara
Materials Used:
Dina Wakley Collaged Hearts stamp set
Dina Wakley Gals & Borders stamp set
Dina Wakley Paint in elephant, blushing & tangerine
Black Archival Ink
Book Print
Tim Holtz Paper Dolls & Tissue Tape