Hi Everyone! Happy Monday.
Susan here with something that may be a little different.
I was trying to come up with an idea for today's tutorial and I had
quite a few different ones that came to mind but I decided to talk
about stamping on a budget.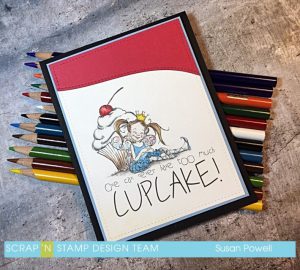 My card features the image from Penny Black called Cupcake. When I
buy stamp sets I always try to buy ones that are very versatile and
lend themselves to different styles and occasions. But once in a while
there are those ones that are just too cute to pass up – like this cutie
with the cupcake. It reminds me of my girls when they were little.
I bought this years ago when I was new to stamping
and lived in a town that was 5 hours from the nearest craft store.
I linked to the stamp set below for you.
I did some simple coloring using my Prismacolor pencil crayons. Now I
admit I have about 150 (ish) pencils BUT I really don't need that
many. (Shhhh don't tell my husband that haha). I pulled out the 12
colors that make up the set I linked to below and used the brown and
the black to add lots of shading, and white to add highlights.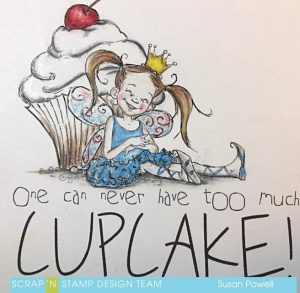 I admit I have a fair amount of dies BUT THE MOST USED set in my
craft room is the set of Stitched Rectangle Stackable dies I linked to
below. I use them on practically every card I make. When you're
considering whether to buy a higher priced die set or not ask yourself
this, "How often will I use it?" If you're like me with the dies I listed
below and answer with an "A LOT" then you'll be adding them to
your cart.
Because I kept the colors really simple and there was a lot of white
space I decided to add a pop of color to the top with cardstock. I used
the Stitched Hillside Borders Dies from Lawn Fawn to make the
curved edge to a piece that I'd already cut with the Stitched
Rectangle Dies. It's a simple and cost effective way to add color to
your cards and a great way to stretch your card stock.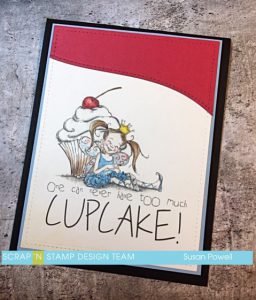 When you're just starting out with stamping, it's hard to know where
to start. My best advice is to start small. Get the basics – a good black
ink, some white card stock, a good paper cutter and scissors.
Buying ink pads can be overwhelming. Choose the colors that make
you happy and look good together and work with the stamps you
own. Look for sentiment stamp sets that cover all kinds of occasions
and that you can mix and match to make your own. Then think
about the people  in your life that you'll be making cards for and
choose sets that fit them.
The main thing to remember is to HAVE FUN!!
Happy Stampin'
and thanks so much for stopping by!
Shopping list:
Click on the picture below to be taken to where you can order the product. I use affiliate links when possible which means I will get a small commission if you purchase through my links. There is no additional cost to you and helps with the running of my blog. I appreciate your support.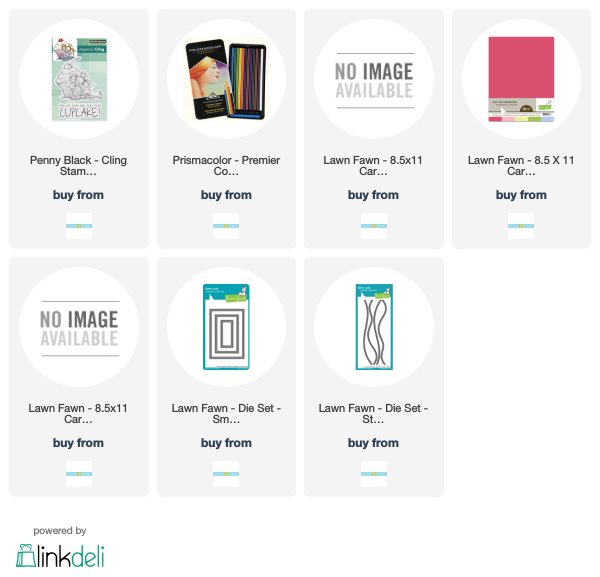 Tags: Lawn Fawn, pencils, Penny Black, prismacolor