Happy Monday, my friend! I have a super cute card to share with you today, so grab your favourite beverage, and settle in for a bit. As soon as I saw the preview of the winter release, I knew that I would be ordering this Winter Tales stamp set by Penny Black. I just love scenic stamp images, and the little birds on this one are just too cute! Seeing this stamp brought to mind my wonderful Design Team member Kia – she loves birds, and probably has the most bird related stamps than anyone I know. And that's okay, because she's so talented, and always creates gorgeous projects with them. So, hopefully I'll live up to her standard with my birds in today's project.
WINTER TALES
This Winter Tales stamp is a large one, but I trimmed it down to fit a standard A2 card.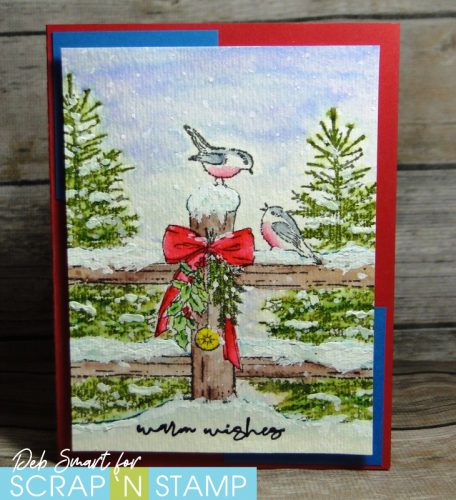 Well – was I right about these adorable birds?! They look like they're having a very animated conversation – how fun would it be to understand bird talk?
IMAGE DETAILS
This image lends itself to colouring with your favourite medium. I chose to watercolour with my Zig Clean Color Real Brush Markers, and a water brush. To start, set up the stamp and your watercolour paper in your stamp platform. Because watercolour paper has a texture to it, you'll want to be able to re-ink and stamp at least twice, for a clear impression. Use an archival ink to cover the entire stamp, and press onto your panel. Repeat at least once more, until the image is crisp & clear. Now, stamp the image again onto a piece of masking or photo copy paper, and hand cut with scissors. This is your mask, so that you can stamp the trees behind the image.
Use the Winter Tree stamp, also from Penny Black, and stamp it in Gina K. Fresh Asparagus ink, with the mask in place. Stamp the tree on either side of the middle fence post; repeating the stamping for good ink coverage. With that done, you can remove the mask, and start colouring the image. For colouring with the markers, first apply a bit of colour directly to the image, and then immediately blend it on with a damp water brush. Continue to do this until you're happy with the depth of colour. Once the colours are dry, you may want to go back in to add more ink, to create depth and shadows.
CREATE SNOW AND BACKGROUND
To create the snow, add white Gouache paint without thinning it, directly onto the areas where the snow should be. Those are the tops of the fence rails and post, on the ground, and on the trees. For the sky, use the Blue marker and lightly brush it across the sky. Do a small area at a time, immediately blending with the water brush, so it isn't too dark, or blotchy. I love how the other colours within the blue start to show through, when it's blended with the water.
When the sky and snow are dry, thin out the remaining gouache paint with a bit of water. Put your mask back in place, to cover the birds and fence. Pick up the thinned gouache with your paintbrush, and splatter it onto the panel, creating smaller snowflakes. Remove the mask, and add a few snowflakes by hand onto the fence and trees.
Here's a close up photo, so you can see how the gouache, without water, creates dimension for the snow.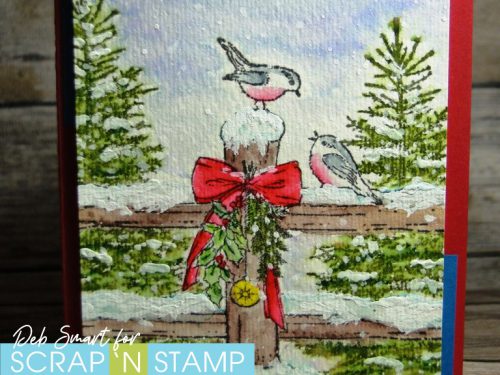 FINISH YOUR CARD
Now, stamp the small sentiment from the Concord & 9th Mistletoe Messages at the bottom, in Nocturne ink. Cover with clear embossing powder, and heat set. Layer 2 blue squares in opposite corners of your red card base, and then attach your image panel with foam tape.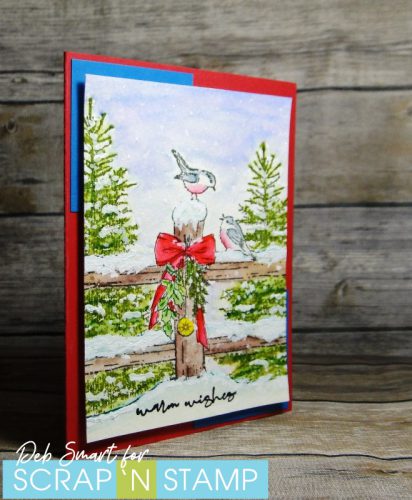 I coloured my birds to look similar to robins, but you can make them into your favourite bird!
Thanks for spending some time with me today! I hope you've been inspired to have fun creating your own winter or Christmas cards. Or, just change up the sentiment, don't add the snow, and this would make a great anniversary or thank you card, too! If you haven't already, be sure to leave comments on each blog in our White Christmas blog hop, for a chance to WIN a $50 Scrap 'N Stamp Gift Card! You can start HERE at Tara's post.
To order the products to make this card, links are included below.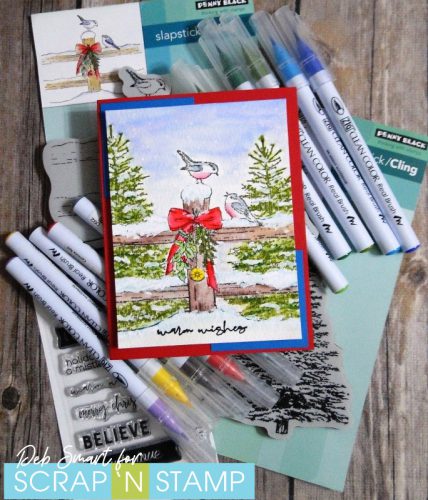 Affiliate links are provided, at no cost to you.