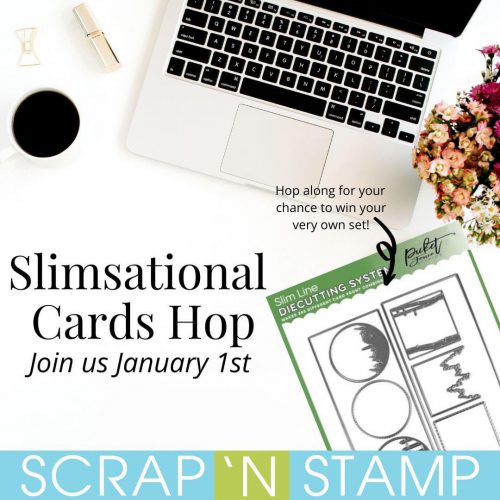 Happy New Year and welcome to the first SNS Blog Hop of 2021… the Slimsational Cards Hop!  Today we are celebrating the fun trend of slim line cards, which are cards that fit in a standard #10/legal sized envelope!  Often they are 3.5×8.5″, but sizes can vary slightly!
Today we are working with the Slim Line Die cutting system by Picket Fence Studios… in fact, we are giving away a set of dies to one lucky person who leaves comments on the blog hop & other social media posts!  The set includes two large layering dies- the largest of which is 3.5×8.5″ and is perfect if you want to make your card base just a tad bigger than that if your envelope allows!
Of course we have a special in case you are inspired to do some shopping after seeing everyone's cards!  Celebrate the new year & use the code "finally2021" to save 21% on your order!  Happy Shopping!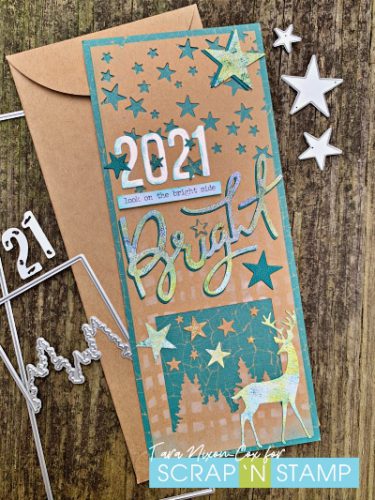 In addition to the Slimline Cutting System, I've used some Tim Holtz dies.  I got the new Merry & Bright set shortly before Christmas, so this was a fun way to use it for a non-christmas card, using just the word Bright.  As soon as I saw the tree window for this set (which you could fit three of across the card front if you wanted!) I planned to pair it with one of the darling deer die cuts.  The  falling stars set was a perfect way to tie it all together.
Both the deer & the word were cut from a piece I had experimented on with gel printing.  Random pieces like this are great for die cutting, and I was able to get a few individual stars out of it too!  I layered the large Kraft layer over a card base made from crackle Kraft Core card stock- an older Tim Holtz product that I don't believe is available anymore, but seemed like a great fit for this card!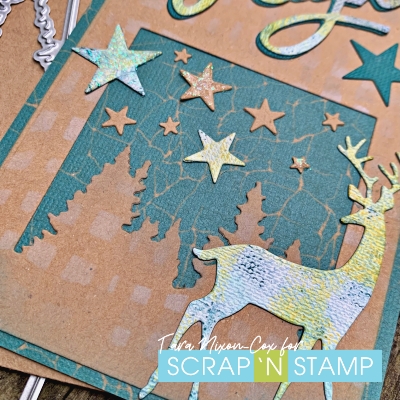 I added a bit of subtle stencil details in the background… mostly because I wanted to try out my broken fence slimline stencil by Picket Fence 😉  I kept it neutral for a subtle look.  As you can see, I added a bit of Nuvo glitter to some of the stars.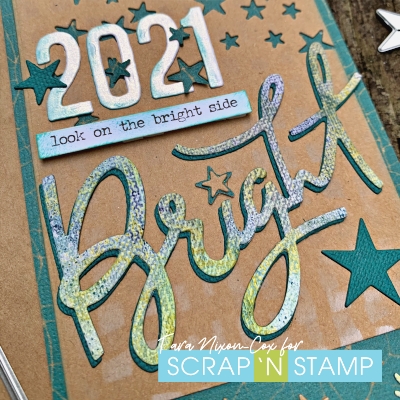 I was playing around with sentiments I could use to pair with the 'bright' word… and leaning toward 'the future is bright' until I found this sticker in one of my small talk books.  Die Cut numbers for 2021 balanced everything out for me!  Tim Holtz's Alphanumeric dies are a perfect, timeless font that goes with almost any lettering style (mine are the slightly smaller 1″ alpha, which I believe is discontinued).
If you've been making cards for a while, trying a new shape or size, like slimline, can really give a creative boost. Especially since it gives new life to older stamps & dies that you tend to use the same way or with the same sort of layout every time.   Years ago I used to make what I'm going to call now "mini slimline" cards that were 3×6, from 6×6 card stock.  It's a much smaller size, but the design concept is similar!   Even if you've been creating slimline cards for a while now, I hope this hop can give you some fresh inspiration!  Next up, you'll want to go visit Nancy to see her wintery card…
Here's the full hop order in case you get lost along the way.
Once again, Happy New Year & happy hopping!
Inky hugs,
Tara