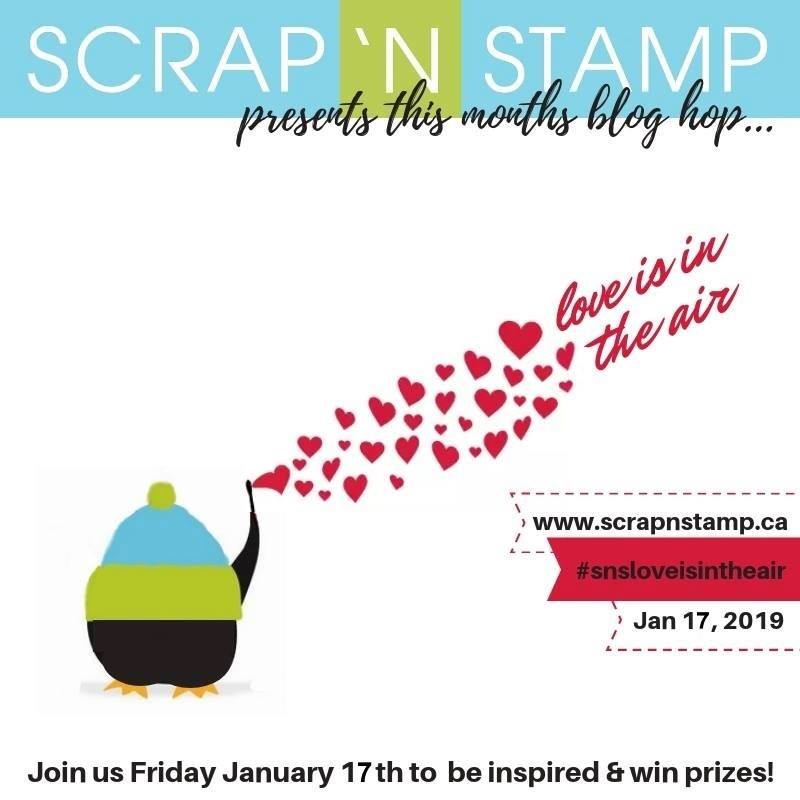 Hello and welcome to our January 2019 BLOG HOP "Love is in the Air"… we've already been seeing some stunning entries on our Facebook Challenge page for the challenge with this same theme, and today we are bringing you some sweet samples from our Creative Design Team!   We are a small group this month, but have seen some amazing entries for our Design Team Call and look forward to introducing several new members next month 🙂  As thanks for your comments on each blog along the hop, we're giving away one $50 Gift Certificate and each designer will get to give away a Valentines gift pack (set of heart clear stamps, rub ons, red pen, and sparkly paper value $25). So please, leave us some LOVE as you visit our blogs!  Winners will be announced Jan 25 right here on the SNS blog!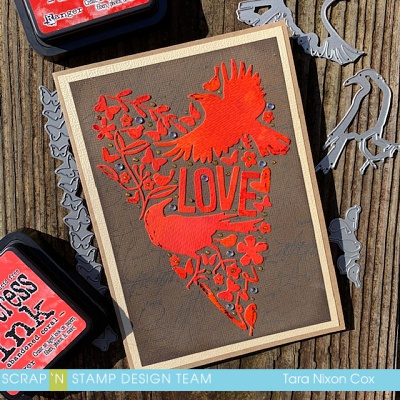 I had a hard time getting started on this card… really hadn't picked up any of the amazing new Valentine's Day products yet, so I was looking for a fresh idea to use the products I already had to fit the theme!  I decided to go for it with the 'air' part of the theme and started thinking about birds & butterflies… and finally decided to see if I could create a heart full of a variety of fabulous die cuts!  I started with gathering up some dies I thought might have something I could use- words, birds, flowers, butterflies… The dies I chose were all from Memory Box & Sizzix and included a variety of sizes for me to work with.
Memory Box: Fancy Blossoms, Butterfly Delights, Resting Birds
Tim Holtz/Sizzix: Feather & Ravens, Funky Florals #2, Handwritten Love, 1″ Alpha Numeric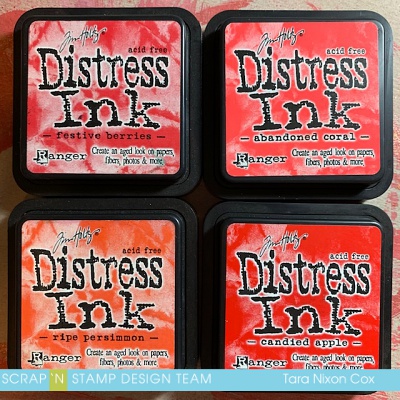 Next I inked up some watercolor card stock with a variety of Distress Ink.  I chose reds & corals for this project, and blended them with lots of water for a vibrant base.
My colors were Distress Ink: Festive Berries, Abandoned Coral, Ripe Persimmon, Candied Apple
Once the background was dry I placed it on my magnetic platform for my Sizzix Big Shot (a life saver when working with so many different pieces!) and fit as many shapes as I could onto the paper, then ran it through the Big Shot twice to make sure the detailed designs cut through the textured paper.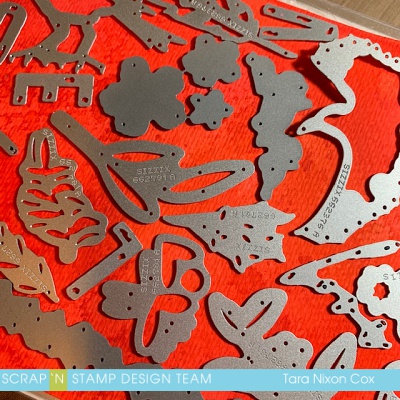 I did a rough heart shape cut by hand from some scrap paper and used it as my template to figure out a layout.  Because of the large size of my ravens, I decided to use a 5×7 card as my base.  Once i was satisfied with the design, I started arranging them on the background I had stamped (C-A-C Script Cover a Card background by Impression Obsession) and inked already.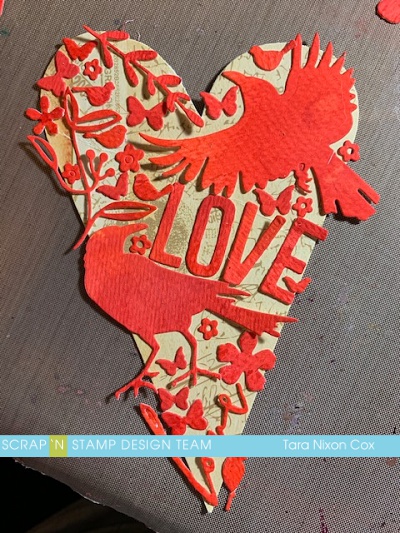 I kept the rest of the card very simple, adding a pearl layer on the kraft base.  I added some clear rhinestones and Nuvo Glitter Drops in some of the open spaces of my design and finished it off with a bit of red foil around the edges of the heart design as well.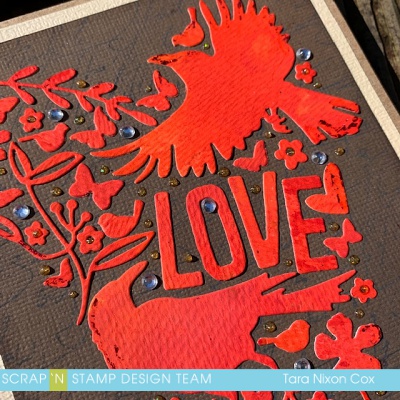 It was a fun project that used lots of patience and my trusty glue pen!
Next up on the hop, please visit:
Have fun!
Inky hugs,
Tara
Tags: blog hop, die cutting, distress ink