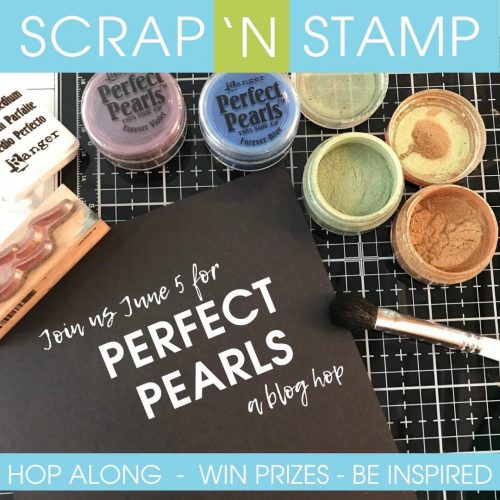 This weekend you can save 10% on all Perfect Pearls products!  It's a great time to try out a fabulous product that's been around for years, but might be new to you!  As usual, we are giving away a $50 gift certificate for the SNS online store to one of our amazing readers who leaves comments on our posts along the hop, so please… let us know what you think of our projects!
Perfect Pearls have been around for a long time, but have recently been re-branded/launched by Ranger to introduce them again as a great addition to the Letter It Line.   The new starter sets are fantastic, with two colors of Perfect Pearls, a small fluffy brush and a mini Perfect Medium Ink Pad.  My project today uses Letter It Set #3 with the addition of a single color, Sunflower Sparkle.  SNS has some of the original sets in stock as well and they are an even better value since they include 4 colors & two brushes!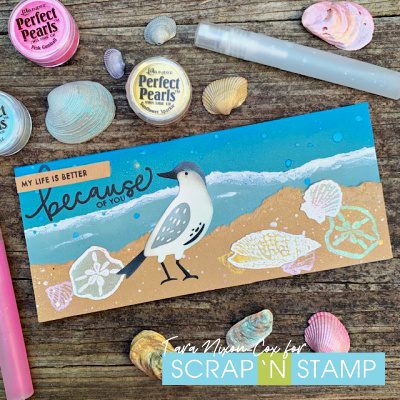 My card today also features the Feathered Friends die set by Tim Holtz, She Sells She Sells stamps by Jane Davenport & Just Because stamps by Concord & 9th for the sentiment.   I also used some mini mister spray bottles to turn these pretties into shimmer sprays- you're gonna want to try it!   I had my doubts along the way how this would all come together, but now that it's done, I'm ready for another trip to the beach!
I used the Perfect Pearls in three different ways on this card.  First, I stamped in Perfect Medium and brushed the Pearls over the stamped image.  Perfect Pearls are a pearly pigment powder that has a binder mixed in with them, so they will bind to water or a wet medium.  You can see an example of this on the shells that are stamped directly on the kraft "sand" layer of my card.  Next, I painted with them, adding shimmer to some shells which I embossed in white on kraft.  (Side note- Perfect Medium also makes a great embossing ink!) I then used a wet paint brush dipped into the Perfect Pearls to paint my shells.  You can add layers for more intense color & shimmer, or add water for a subtle shine.
Lastly, I used them as a spray!  I missed the Perfect Pearls with a bit of water in Mini Mister spray bottles.  I didn't measure, I simple picked up pigment with a paintbrush and dropped it in. I repeated a few times and then stirred with the same brush to get the color off.  While this photo isn't the greatest, I hope it gives a good indication of the pearly shimmer all over the card!  I used blue on the sky & water layers and a mix of sunflower and pink on the sand.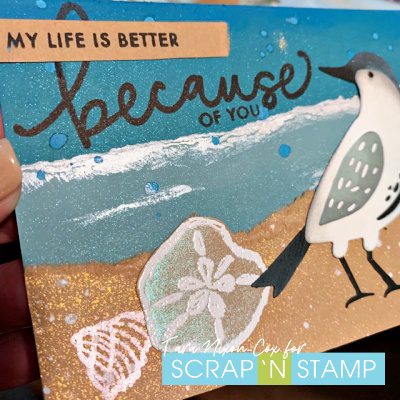 I had a few puddles of color left on my craft surface when my card was done, so I selected a few of the shells I gathered at the beach last summer and decided to paint them as well for a perfectly coordinated photo prop.  They turned out so pretty, I had to photograph them on their own with the pearls and the spray bottles!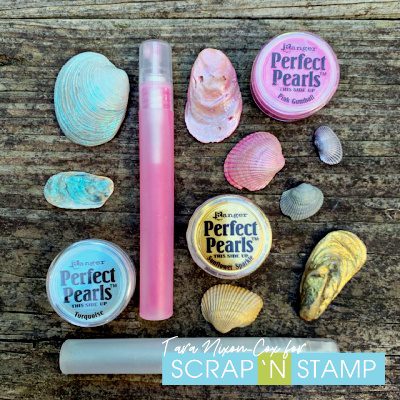 I can't wait for you to see what the rest of the girls have been creating with Perfect Pearls!   It's so fun to see a classic art medium get a fresh start 🙂  Next on the hop is Deborah, and below you will find the full set of links for each of us.  Hop along and enjoy, and don't forget to leave us comments.  I'd love to know when the last time you used Perfect Pearls was!
Perfect Pearls June Blog Hop
Inky hugs,
Tara
Tags: beach, blog hop, Perfect Pearls, summer