Happy Tuesday!  Today's word for our 'Random Acts of Cardness' Challenge is ENGRAVED, inspired by the Tim Holtz 3D Embossing folder I'm using on my card.  I've seen it used several times in stunning metallic varieties, and I was ready to do that for my card.  Once I actually embossed it I started to think that it would look amazing as carved wood instead.  So I'll save my metal for another day and I'm sharing a card with a more rustic affect.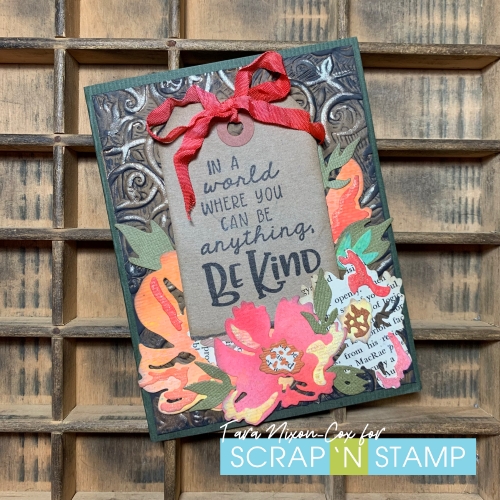 I realize that I covered up most of my background… but once I started with my design I couldn't help it!  I hope enough of the engraved effects show through so you can appreciate it.  Using a foam applicator, I added some black Distress Paint to the front side of the embossing folder before inserting my brown card stock and running it through my Big Shot.  Once I trimmed it down to size, (I find the 3D folders tend to warp the size a bit so often require a second trimming) I used the same applicator to add paint along the edges of the paper.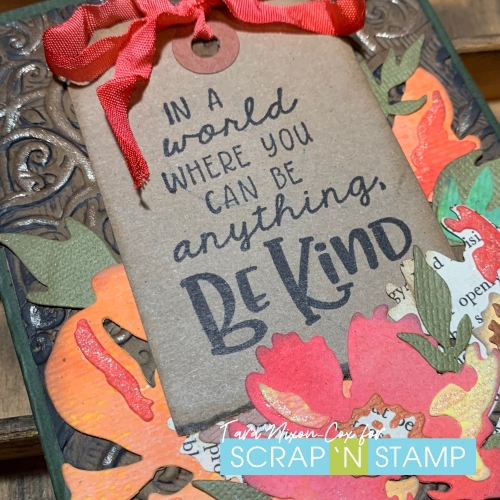 I wanted to use some more of my prepared Brushstroke flowers around a sentiment on my card and I decided on this one by Taylored Expressions, stamped simply in black on a Kraft tag, which I tore along the bottom.  I arranged the flowers and found some ribbon to match.  Once everything was assembled, I added a few bits of shimmer accents with a Nuvo glitter pen.
Once I had all the pieces, assembling the card went together fairly quickly.  I like to snap a quick picture on my phone of the layout I decide on before I start adding glue so I can refer to it when I'm finishing up.  What did we do before we had smart phones, anyways?
In a world where you can be anything, Be Kind.
Inky hugs,
Tara
Tags: Sizzix, Taylored Expressions, tim holtz, Tuesday with Tara