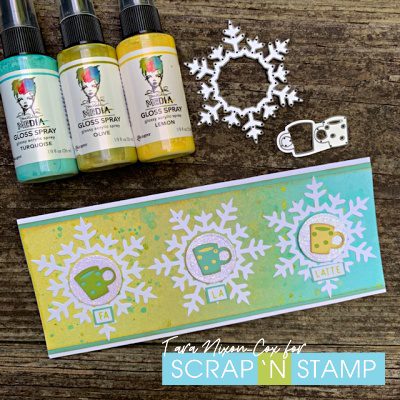 Happy Tuesday!
I've used Dina Wakley Media Gloss Sprays in Lemon, Olive & Turquoise to create this easy ombre background.  I wanted to have lots of space to let the colors blend and overlap, so a slimline card seemed like a fun size to work with.  Starting with a strip of white card stock, I sprayed each color to cover approximately 1/3 of the strip.  Once I had good coverage & no white showing, I removed the nozzles and splattered across the paper for some extra contrast.  This was actually my first time playing with the Gloss Sprays, and they have a really neat sheen to them (especially where the paint is thicker, like on those splotches) that was really hard to capture on camera.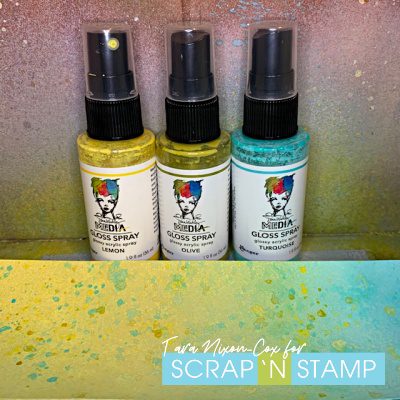 I challenged myself to take today's 'ombre' theme and combine it with Christmas in July… a bit tricky when you are working with colors that are more reminiscent of summer than winter!  I selected some Christmas dies that I purchased after Christmas last year and hadn't played with yet, and decided three large snowflakes (from the Tim Holtz Wreath & Snowflake set) would be great for a slimline card.  The colors on my card have a whimsical feel, so I chose this fun little coffee mug image from the Festive Things set.  Coffee is perfect any time of year 🙂  I selected cardstock scraps that were close to the colors in my background and cut the mug three times, layering the two pieces for contrast.  Each was layered onto a glittery die cut circle.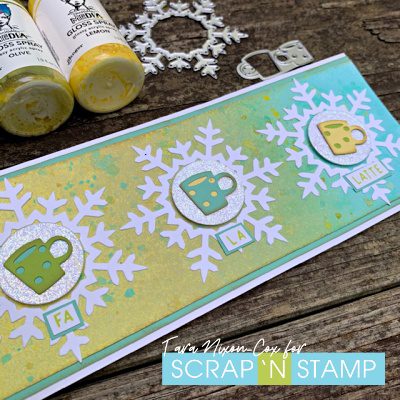 I was debating whether I would add a sentiment to my card… and once I decided on one, I had to figure out how to do it.  I could have used alphabet stamps or dies, but instead I did a little 'stamp surgery' to create the sentiment from words in the Lawn Fawn Thanks a Latte Stamp Set.  It's easy to do with good quality photopolymer stamps!  Make a clean cut to separate the parts you want and you can rearrange them as you need- in this case I only had to move & shift one letter!  If I need to use the original 'fall' word, I can easily place them back together on an acrylic block.  I used my Tim Holtz mini snips, but any sharp detail scissors will work.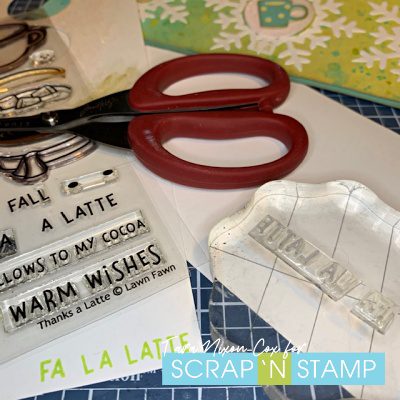 I decided to play up on the whimsy of the card and cut imperfect layers for the fun sentiment, which I arranged under the three snowflakes.  Here's another look at the details.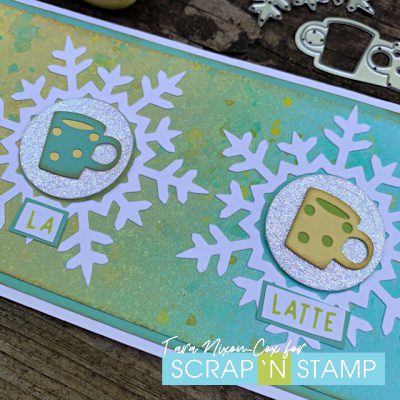 Hope you like it and are inspired to create some easy ombre with Dina Wakley Gloss Sprays!  I know I'm looking forward to playing with them again!
Inky hugs,
Tara
Tags: christmas in july, Gloss Spray, Ombre, Tuesday with Tara