Happy Tuesday!
Today's card is a bit of redemption for the hot mess I made experimenting with blowing Dina Wakley's Gloss Sprays to make backgrounds… I salvaged what I could from the messiest of the hot mess (like the ones I tried to smoosh together- big fail) and I did some die cutting!  My card today features one of the Colorize dies that Tim Holtz has been releasing, this one is called BLOOM and unfortunately SNS doesn't have it in stock (but they are trying to get it!).  I'm using the die cuts together with some simple black stamping with a Heffy Doodle Get Well stamp and a big Best Friend Background background by MFT.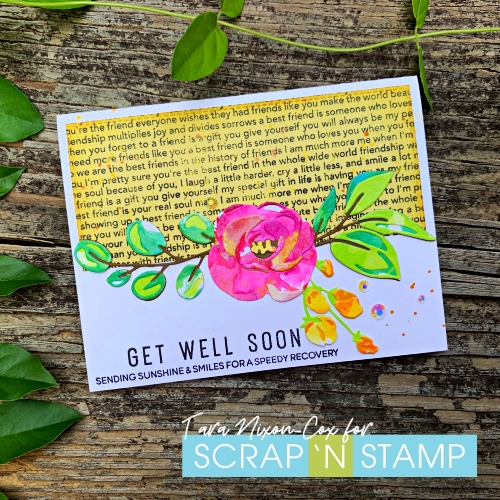 These Colorize dies (since bloom isn't in stock, I'm linking to a random fave!) are pretty cool, you cut pieces for multiple layers which build up to complete the design.  There's at least 3 pieces for each, thankfully they are marked on the back which color to cut them (according to the package design) so I stuck with the basics here, with my vibrant, messy, glossy twist!  I cut the pieces marked pink from pinkish parts of my paper and yellow from the yellowish parts, etc.  It ended up pretty cool and I love how the glossy bits (where the paint was thicker when it dried) really add fun texture!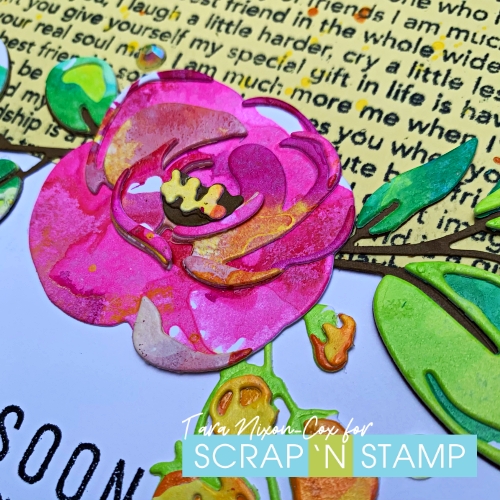 As you can see, I added a bit of splatter to the yellow panel to bring a bit more of the gloss on the card.  I've been trying to create more 'flat' cards these days instead of constantly reaching for 3D foam to add texture.  This card still has plenty with all of those layers in my bloom!  I did not manage to resist the urge to add a bit of bling though… I swear these little Studio Katia crystals call to me!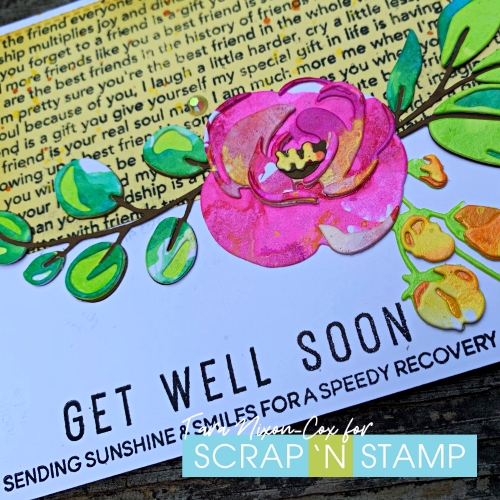 Apart from putting the bloom die cut together, this card was stamped & assembled fairly quickly and I think it would brighten the day of someone who isn't feeling well, don't you?
Inky hugs,
Tara