Happy Tuesday & Happy Halloween!
I sat down in my studio determined to create one more halloween project to share with y'all… and since the ideas playing around in my head didn't seem like they'd fit on a card, I pulled out my Mixed Media journal by Dina Wakley and opened to a spread of kraft pages that had previously been used as a spot to clean off my brushes… a mix of orange, brown & blue brush strokes in the background became the base for these pages.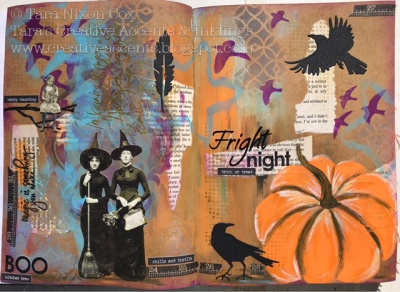 Initially, I decided I wanted to paint a pumpkin to use together with the raven dies.  As that page started coming together, I added coordinating elements on the left page so they would have some flow between them, even though they could also stand alone (with completely different focal points).  It's probably a different way to do art journalling… but I'm kinda new to it, and I think it can be whatever you want it to be!  I used some pieces from the ancestors paper dolls again for the left page…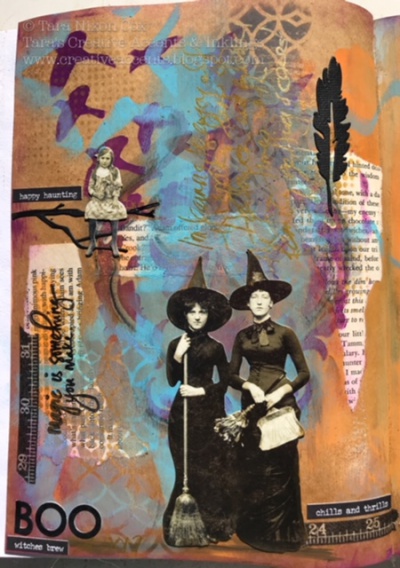 …and the ravens are a great compliment to my pumpkin (I wanted to try again a technique I'd learned for painting pumpkins!).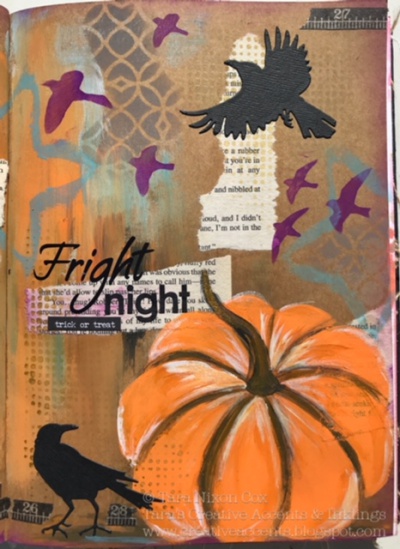 I went old school and pulled out stickers for my title (colored stickers can easily transform to black with a marker!).  I added a variety of stenciled bits here and there, some washi tape and bits of gold (paint on the pumpkin and a pen for my journaling).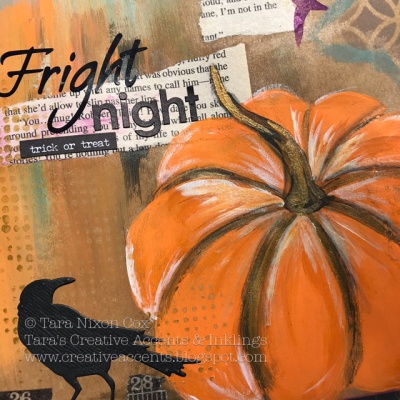 I'm working on being free with my 'messy' script for journaling- I love the look of it and am learning that the best thing is not too think too hard about what it looks like!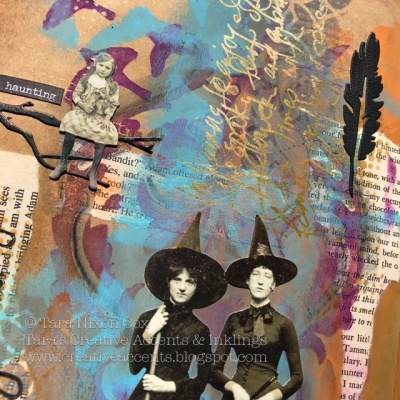 The left page, especially, is out of my comfort zone… but that's kinda the point.  I journaled about learning to enjoy the 'spooky' aspects of Halloween with my family 🙂
I hope you have a fabulous & fun spook-tacular day!
Inky hugs,
Tara
Materials Used:
Dina's Media Journal
Assorted Dina Wakley Paints (including gilt, sky, tangerine, cheddar, blackberry & umber)
Distress Oxide Ink in Walnut Stain
Ancestors Paper Dolls (on sale right now!)
Feathers & Ravens die set by Tim Holtz
Assorted stencils (including Tim Holtz dot fade & latticework)
Assorted stickers & washi tape
Tags: art journal, Dina Wakley, halloween, Paper Dolls, Tuesday with Tara