Happy Tuesday!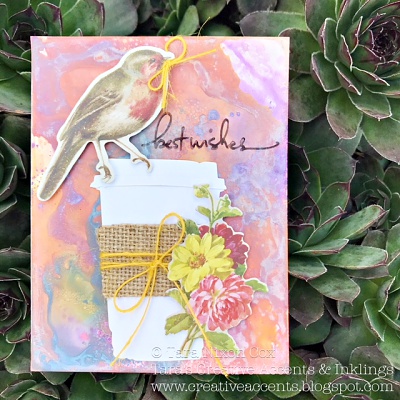 Today I have a  pretty simple card to share, but it features that fun technique Tim Holtz shared at Creativation using Distress Oxide on Glossy Alcohol Ink paper!  I have his video to share with you- it starts out with introduction of the new colors and the technique starts around 6:45- check it out!
I went wild with colors and threw a bunch onto my paper, had fun with layers and the unique look it gave me.  For me, the trickiest part was the Distress Micro Glaze– I got way too much on my tool at first and had to do some wiping (warm climate=very soft glaze medium). My finished product was pretty much way out of my comfort zone and a ton of fun 🙂
The trick then was to decide what to do with that wild background… I was sipping my coffee and marveling at the early spring weather here- enjoying daffodils blooming and birds chirping… and I decided to try to bring all of that into my card!  The bits of yellow are tribute to the daffodils, the rest is just my attempt at making a simple card with a wild background and bringing some joy from it!  People often think grungy and masculine when they think of Tim Holtz's products, but this card is very cheerful and feminine- and it's pretty much all his products!  I've used his coffee cup die by Sizzix and the Idea-ology Botanicals layers. I wanted to mimic the look of some pretty coffee stamps I've seen that have flowers bundled to them, so cut the coffee sleeve from some burlap paper in my stash and picked at botanical that fit with the colors and size I needed.  Yellow twine tied it together…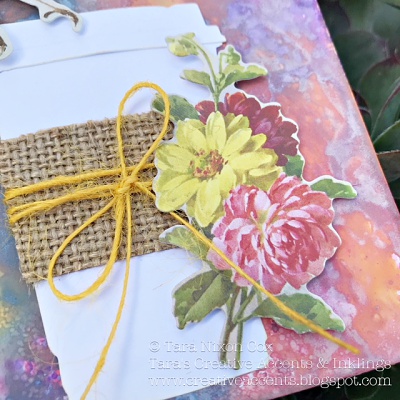 and the little bird on top is clearly helping to send cheerful wishes your way, with a tiny yellow bow in his mouth…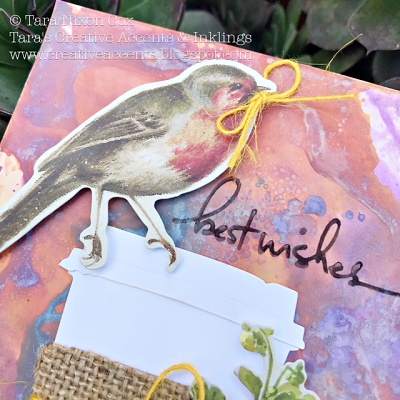 The sentiment is from Dina Wakley, it was just a perfect fit for the space I had left and I was very happy to find that Archival Ink worked on the glazed surface (when I didn't have too much glaze, that is!).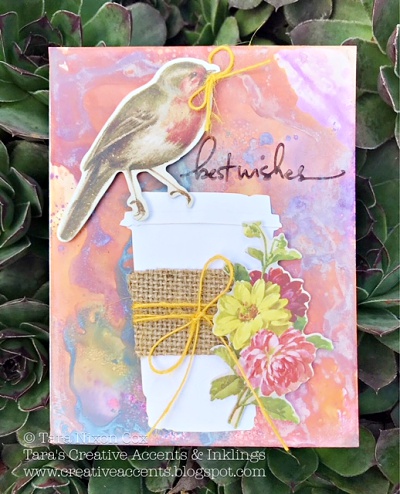 If you're still fully immersed in winter (which I know most of my friends in BC, and across Canada are), I hope this card brings a smile to your face and the hope of spring… at least we have our inks and craft supplies to brighten our day, no matter the season or the weather!
Inky hugs,
Tara
Materials Used:
Glossy/Alcohol Ink Cardstock
Distress Oxide Inks
Ideo-ology Botanicals
Sizzix Fresh Brewed Bigz Die