Happy Tuesday!
Today's card came about when inked up some die cut bookprint paper for another card I was working on and then decided I liked it better for that project left white(ish)… so I pulled out my fave Good Idea floral stamp by Dina Wakley and it turned into this!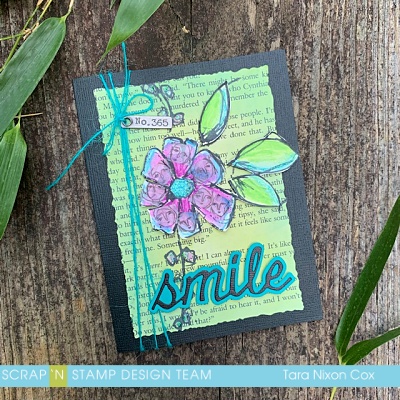 I've had a lot of health issues lately and along with them a pretty big creative block (not to mention lack of energy) so it was fun to just go with the flow on this card… let the quirky ideas come out, like when I looked at the big blossom I'd colored with Scribble Sticks and wondered if the faces on Dina's washi tape would fit on the petals (I was drawn to the tape more than usual because I'm taking high doses of prednisone right now and have a big round moon face myself because of it). Spoiler alert- they fit and I kinda love the weirdness of it!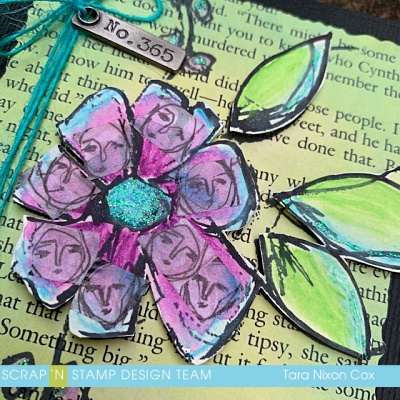 I finished off the card with a die cut 'smile' from Tim Holtz's Shadow Script #2 set. Both the die cut and the flower/leaves are mounted on 3D foam squares for texture, to allow them to be slightly raised over the thin jute I wrapped around the card. A bit of glitter (Nuvo) and a metal charm finish it all off. And you know what, it's quirky and it makes me smile, even with my steroid induced moon face 🙂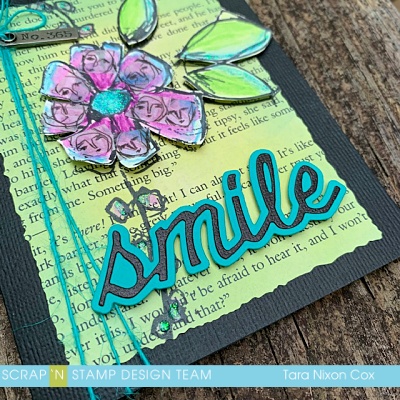 I hope you find some time to create something that makes you smile this week!
Inky hugs,
Tara
Tags: Dina Wakley, tim holtz, Tuesday with Tara