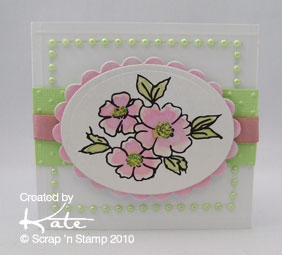 Have you ever wished that the image on one of your rubber stamps was just a bit smaller so you could cut it out with one of your Nestabilities? Or maybe you would like to print out 25 of the same image for invitations and have each one come out perfect. Now, that isn't a problem because you can do all that and more with our Studio K Digital Stamps. You can make them any size you want and print them as many times as you want – quickly and easily. And for a fraction of the cost of rubber or clear stamps. No wonder digital stamps are becoming more and more popular.
And, the best part is you don't have to be a graphic artist or computer whiz to work with them. There's no fancy software required – a basic word processing or photo editing program is all that you need.
When you are first learning how to use digital stamps it can all seem a bit confusing. Downloading, unzipping – what does it all mean and how do you do it? So, we wanted to make some of the 'scary' stuff easier for you. We created our Digital Basics Tutorials to do just that. By following the step-by-step instructions you will learn all the basics to start using our Studio K digital stamps on your own unique projects in no time.
Why are digital stamps so great?
Because…
– they are very inexpensive compared to rubber or clear stamps
– you can make each image any size you want -really small or really big – all with the same image. Try doing that with a rubber stamp!
– each image stays crisp and clear when it is resized
– Studio K digital stamps have transparent backgrounds so you can do more with them
– storage is never an issue – digital stamp files are small and take up very little space on your computer
– you can do almost anything with a digital stamp that you can do with a rubber or clear stamp
– they work beautifully with a lot of the supplies that you already have like inks, watercolors, glitter, papers and dies
– you can create completely 'digital' projects with them or you can print them and create beautiful 'hybrid' projects using your other crafting supplies
– there are no shipping charges and you receive your stamps as soon as we receive your payment. Talk about instant gratification!
How do you do all this? It's easy! Just DOWNLOAD, PRINT & CREATE!
1. Download a Studio K Digital Stamp and save it on your computer.
– Digital Basics – How to Download & Save Digital Files
2. Open the file in your choice of software.
Don't let this step worry you. Keep it simple by using a program like Microsoft Word or Paint. You may already be familiar with these programs so it will be really easy for you to PLACE or INSERT your image in a document. From there you can resize it and print it.
– Digital Basics – Using Digital Stamps in Word
Some of you may have Photoshop, Photoshop Elements or other photo editing or design software. If you do then you can do even more with your digital stamps. More tutorials are coming that will show you some really cool things you can do in those types of programs.
3. Once you have printed your stamp just the way you wanted it there is no limit to what you can do with it. Cards, scrapbook embellishments or pages, journals, home decor. Let your creativity flow and apply some of your favorite crafting techniques to make a truly one of a kind project.
Our Designer Showcase and Tuesday Tutorials will be featuring lots of samples and projects using Studio K Digital stamps so be sure to check back regularly.
We are very excited to be introducing our new Studio K Digital Stamps. The selection that you see is just the beginning.We have many more fantastic Studio K Digital Stamps and Printables to share with you in the coming weeks so click on What's New when you visit the store to see all the latest images.
Thanks for stopping by. Have a wonderfully creative week!
Kate
Scrap 'n Stamp Canada
Tags: digital stamps, Studio K