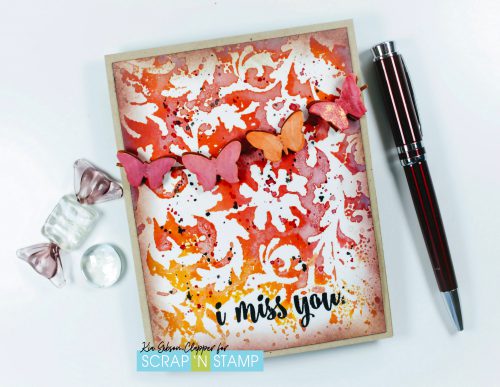 Today, for the Random Act of Cardness, I would like to share with you an old technique called Embossing Folder Stamping, but today I have a bit of a twist.
For this technique you will need watercolour paper, I used Fabriano Hot Press. The smooth nature of the hot press paper soaks up the inks easier than a cold press would.
To start I cut my watercolour paper to size. Using a box lined with waxed paper and paper towels I place my 3D embossing folder with the label side flat in the box.
The twist is I am using Distress Oxide Spray in 3 different colours, and spray each of the colours on the flat labelled side of the embossing folder, ensuring good coverage. I then spray my watercolour paper with water on the front and back to avoid warping and it also helps in soaking up the inks, and give the embossing folder a spray. It does not need a lot of water as there is liquid in the spray.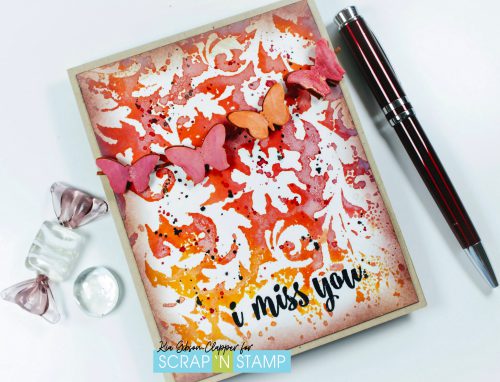 I leave my paper in place for about 35 seconds or so, being sure not to rub the paper, but touch areas of it with my fingers. How long you leave it will depend on what paper you are using. If you use cold press watercolour paper it would require a longer period of time. When I remove the paper I lift it up from the folder being careful not to drag it and disturb the ink placement.
I set the paper aside to dry and using white cardstock I die cut two rows of the butterfly strings. For the first string I coloured using Copic RV69, and styled the butterflies. For row two I coloured the two outside butterflies using RV25.
On the second from the right butterfly I used YR09 and for the second from the left I used RV04. I then styled the butterflies and once done added foam squares to the bottom row, and glued the top row on using Nuvo adhesive.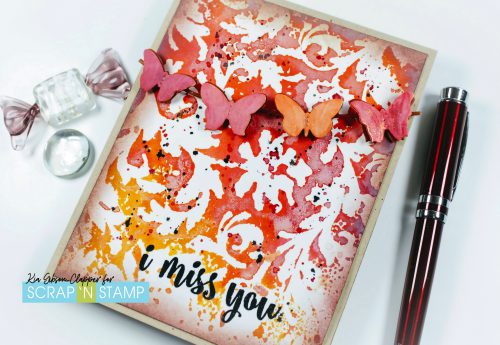 When the panel was dry I added black acrylic ink splatters, then stamped the sentiment using the Jet Black ink, masking off the "r" which left "you" instead of "your". I sponged on Aged Mahogany distress ink along with Vintage Photo distress ink around the edges of the card.
To finish up I attached the embossed stamped panel to my Kraft card base. I then added the butterflies across the mid/top of the card. I love how the deepness of the 3D leaves the negative space clean of ink.
Thank you for joining me today. I enjoyed making this card and I hope you have enjoyed it as well.
Following are Affiliate links to the store for the products I have used today, at no extra cost to you.